China is set for its biggest stock sale in a decade when homegrown chipmaker Semiconductor Manufacturing International (SMIC) debuts on Shanghai's Nasdaq-style STAR Market at the end of this month.
Backed by heavy subscriptions by mainland investors, the Hong Kong-listed company could raise as much as RMB 53.2 billion (around $7.6 billion) in a secondary listing on the Shanghai bourse, potentially the biggest in mainland stock markets since Agricultural Bank of China's RMB 68.5 billion initial public offering in 2010.
SMIC is just the latest example of China's chip funding fever. A report by Nikkei Asian Review says Chinese chipmakers have raised around RMB 144 billion this year from equity markets, already twice the amount of money they raised in the whole of 2019.
Shanghai-based SMIC is China's largest contract chipmaker. It's a solid division II team, manufacturing reliable midrange chips mostly for domestic customers. It lags a few years behind the cutting edge: SMIC is still inching towards 7-nanometer chip production while Taiwan Semiconductor Manufacturing Co. (TSMC) has been producing them since 2018. But the company's 14-nanometer chips are not good enough to supply many domestic needs, such as Huawei's most advanced Kirin chips.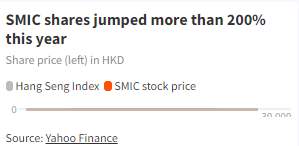 (Image credit: TechNode/Wei Sheng)
The on-going race between China and the United States for technology supremacy has given SMIC its chance at the major league: US sanctions on Huawei could force the world's largest telecommunications gear maker and second-largest smartphone maker to move all its chip production from TSMC to SMIC. The state is ready to pour billions into the company's effort to master cutting-edge production. Shares in SMIC have gone up 215% from the beginning of this year, driven by increasing domestic demand, favorable policies, and the dual listing plan itself. It's a huge opportunity—but a daunting challenge.
The company said it plans to spend 40% of the proceeds of the Shanghai stock offering to help produce 14-nanometer or higher-end chips, and 20% will be put into research and development.
But to become a global leader, experts suggest, SMIC will need more than money. 
Money from the state — and more from the market
Since it was founded in 2010, SMIC has enjoyed generous support from the state. In the same month it announced the secondary listing plan on the Shanghai bourse, a state-backed industry fund injected more than $2 billion into a SMIC chip fabrication plant. 
Years of state support have put China in the fourth spot on global wafer capacity ranking in 2019, according to semiconductor market research firm IC Insights. 
China is known for its lavish investments to boost industries deemed strategically important. In the semiconductor sector, the well-known National Integrated Circuit Industry Investment Fund, or the "Big Fund," underwrites chipmakers. The fund has gathered a total of RMB 342.7 billion from the finance ministry, state-owned enterprises, and local governments. 
Read more: VC roundup: State-backed 'big funds' manage 60% of China's VC/PE money
In addition to its official goal (in Chinese) of "investing in chip manufacturing, designing, and promoting mergers and acquisitions," the fund is also expected to provide "guidance" to get private capital into key sectors.
To raise really big money, SMIC and the Big Fund count on the markets. In 2019, investable assets held by Chinese residents that can be put into the equity market were RMB 29 trillion, according to the China Chief Economist Forum (in Chinese), a Shanghai-based think tank, while the entire national budget (in Chinese) for guidance funds was RMB 2 trillion in 2019.
The STAR Market on the Shanghai Stock Exchange also shows a strong preference for semiconductor firms. Of the 122 stocks listed on the board, around 20 are from the semiconductor sector. The board, known for a meticulous pre-listing review process that can take up to six months, took only 29 days to go through SMIC's application.
"The Big Fund has definitely achieved its goal to guide private capital into the semiconductor sector, and I think the effect is significant," Fang Jing, chief analyst at Cinda Securities, told TechNode.
"Thanks to the push of the Big Fund, the proportion of total capitalization of semiconductor firms in the A-share market's electronics sector grew to approximately 30% from just more than 10% a few years ago," he added. "It is no exaggeration to say that the past two years have been a feast for semiconductor investments."
Money may not be enough
Beijing's expectations are very high for SMIC. According to the Made in China 2025 plan, a government initiative announced in 2015 aiming to boost the high-tech sector, China wants to produce 70% of chips it uses by 2025.  With 18% of the domestic market (in Chinese), SMIC is the only company that's even on the road to this target.
The target seems more urgent now in the context of escalating US-China economic conflicts. The Trump administration has already blocked Huawei's access to its technology and machinery and would potentially cut the company off from the global semiconductor supply chain.
But despite heavy investments from the government and private investors, experts predict China will fall far short of the goal of semiconductor self-sufficiency by 2025.
A May report by IC Insights predicts that China will produce only 20.7% of chips it uses in 2024, growing only 5% from 2019.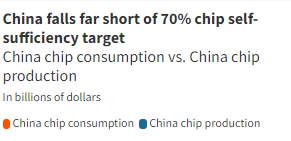 (Image credit: TechNode/Wei Sheng)
China not only needs more chips — it needs better ones. SMIC is "generations behind" TSMC, Alex Capri, visiting senior fellow at the National University of Singapore Business School, told TechNode in an interview in May.  SMIC, one of the country's most sophisticated chipmakers, mainly produces 14-nanometer wafers, while the most edge-cutting chip fabrication technology is now 5-nanometer. For Huawei, this means there is nowhere to buy cutting-edge chips in the domestic market.
In addition to closing a capital gap, China also needs to narrow the talent gap in the semiconductor industry to catch up with the bleeding edge of chip designs, said Fang of Cinda Securities.
China faces a talent shortfall of around 300,000 people in the semiconductor industry, Yu Xiekang, vice president of the China Semiconductor Industry Association, told local media in 2019.
"It should start with education because you can't always poach talents from overseas. We need not only technology self-sufficiency, but also education self-sufficiency," Fang said.
Clarification: This post has been updated to clarify the attribution of a quote in the last paragraph.
Original Source: https://www.conevoelec.com/extension/d_blog_module/post?post_id=44
Media Contact
Company Name: Conevo Electronics
Email: Send Email
Country: China
Website: https://www.conevoelec.com/