08/17/2023, SCOTTSDALE, AZ // PRODIGY: Feature Story //



The DRIP IV Infusion expands its services to Scottsdale, AZ, with its new and innovative NAD+ IV therapy. The company specializes in mobile IV therapy. A good immune system is crucial for any individual as it protects the body against bacteria, viruses, and other pathogens, creating balance. In order to have a healthy immune system, one needs to maintain a healthy lifestyle. However, sometimes people become ill or severely dehydrated due to a lot of reasons.

This is where their mobile IV therapy in Scottsdale, AZ becomes useful as it provides the body with the necessary vitamins and minerals.
"It promotes the feeling of empowerment and increases energy levels. It also acts as a mood stabilizer and decreases inflammation," said Mallorie Buscaglione, co-founder of The Drip IV Infusion.
IV drips can be used by anyone who wants to increase their energy levels instantly. The following are different types of mobile IV therapy treatments designed for specific health goals:
Hangover Helper for reducing hangover symptoms

Kitchen Sink Nutrients for a speedy recovery from sickness

Mama Bear for pregnant women dealing with morning sickness and fatigue

Total Prevention to make up for the required vitamins

C#V!D for lessening the symptoms of viruses and reducing the time needed for recovery

GOAT for athletes to recover after intense activity

Skinny for those who are on a weight-loss journey
NAD+ IV therapy has been launched recently in Scottsdale, AZ. Nicotinamide adenine dinucleotide is a co-enzyme known for its anti-inflammatory properties and wellness benefits. NAD helps in four major areas:
Mental Restoration – NAD improves neurological functions and brain health for improved mood, memory, better mental clarity, focus and concentration, and regeneration of brain cells.
Weight Loss – NAD+ helps in body transformation goals, wherein one can increase their energy and restore muscle function for better athletic performance, enhanced metabolism, and reduced inflammation to help achieve personal fitness and weight-loss goals.
Anti-Aging – Restores muscle function, reduces inflammation by providing relief from aches and pains, reduces overall fatigue, increases metabolism, and boosts energy.
Addiction Recovery – NAD enzymes are also used for addiction-related conditions, improving overall mental health. NAD+ assists in withdrawal from nicotine, opioids, and alcohol. It also reduces cravings and symptoms of withdrawal and alleviates symptoms of depression and anxiety.
"Issues such as brain fog can also be dealt with. Moreover, it helps patients sleep better and feel more energetic and attentive," added Buscaglione.
Individuals who have undergone NAD+ IV therapy notice a considerable difference with just one treatment. The Drip IV Infusion team recommends regular treatments to maximize the benefits and experience long-term results. Those who wish to benefit from the treatment can contact the team here to understand the best treatment frequency for their needs. The Drip IV Infusion is also on Facebook and Instagram.
To learn more, visit https://thedripivinfusion.com/mobile-iv-therapy-scottsdale-az.
About The Drip IV Fusion
The Drip IV Fusion was started in 2022 by Mallorie, Brandon, and Corbin, who have 53 years of combined experience in nursing, home health, emergency medicine, and IV techniques. The center provides mobile IV therapy at home. It offers drip IV therapies for athletes and treatment for anxiety, arthritis, cold and flu, dehydration, energy, fatigue, hangovers, migraine, pregnancy, and weight loss. It currently serves customers in Chandler, Gilbert, Mesa, Phoenix, Scottsdale, Tempe, San Tan Valley, and Queen Creek.
###
Media Contact
Mallorie Buscaglione – The Drip IV Infusion
Phone: 602-341-3511
Website: https://thedripivinfusion.com/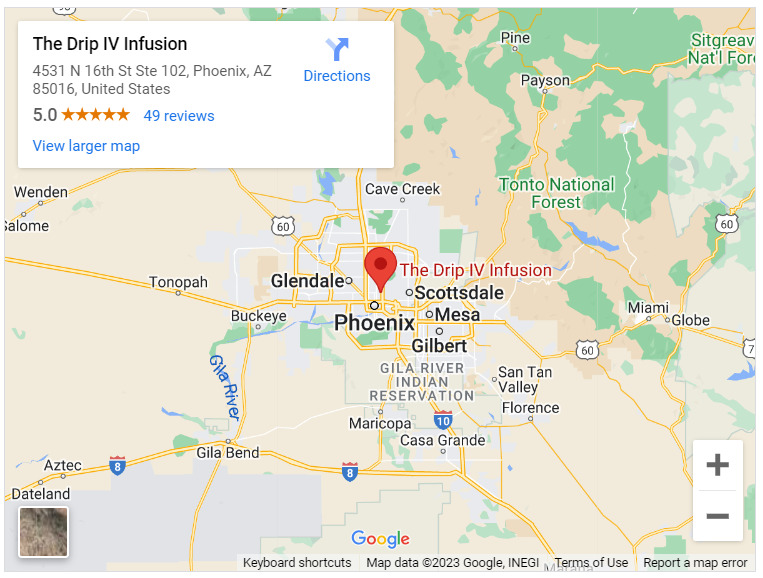 newsroom: news.38digitalmarket.com



Source: 38 Digital Market News

Release ID: 703129

Source published by Submit Press Release >> The Drip IV Infusion Expands NAD+ IV Infusion Therapy To Scottsdale, AZ