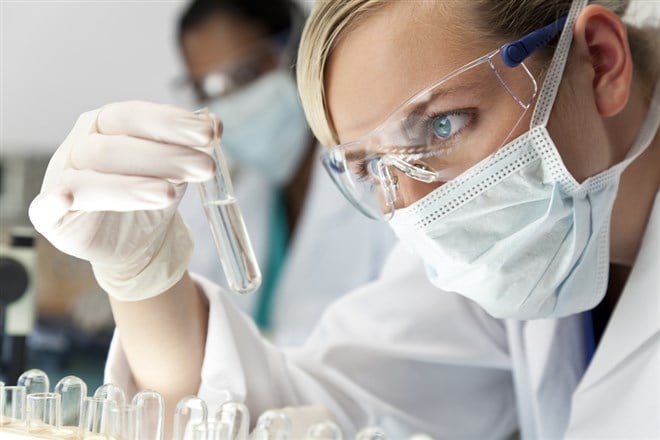 The Exact Sciences Corp (NASDAQ: EXAS) stock price reached the ceiling this week, with shares gaining a sizable 16.38% over the past five days.
Most of that value climb came yesterday, with the molecular diagnostic company's stock gaining 24.65% at the end of the trading session. Putting this figure into perspective is that the S&P 500 finished sideways over the same period, losing an almost imperceptible 0.077%.
As might be expected, Exact Sciences had some positive news to report. The company issued an upgraded revenue and earnings guidance for Q4'22. One notable mention from the announcement is that it expects its screening revenue to come in the range of $401.8M-$402.8M, up 45% from the previous corresponding period.
Overall, Exact Sciences expects its annual revenue to fall between $2.082B and $2.084B. This is in comparison to its previously guided consensus of $2.03B.
The company expects adjusted earnings before interest, taxes, depreciation, and amortization (EBITDA) profitability to come much sooner than previously guided. Exact Sciences predicts that it will at least break even in Q2'22 and put numbers on the board for the full year 2023. It previously expected EBITDA profitability to come by Q3'23 at the earliest.
What will this mean for investors?
One broker has changed their opinion on the stock since the revised guidance numbers were posted to the market. Craig Hallum increased their price target from $35 to $44 per share. However, it should be noted that this implies that the stock has an estimated downside of 20.07% at the time of writing.
As for other brokers contributing to the MarketBeat consensus price target, their opinions have been officially unchanged since the announcement. The stock now has a modest 4.07% upside when including their price targets.
Other signals from the market could indicate that Exact Sciences is potentially overvalued at its current price point. This includes that its short interest ratio is currently bearish, with 5.62% of its shares being sold short. It is also in overbought territory on the RSI, showing a value of 76.161.
A reversion toward its mean price of $50.99 looks likely in the near term and possibly near the $45 and $40 psychological levels. This sell-off is expected as momentum shifts towards the downside, as shown on the curvature of the MACD line and MACD histogram. The previous long-wicked green candle shows hesitation among bulls to keep the rally going, followed by a red candle with strong volume courtesy of the bears.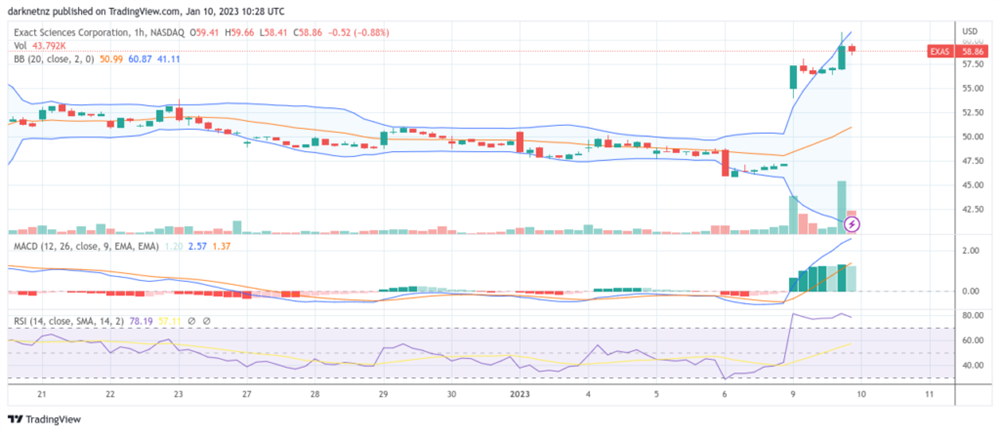 Exact Sciences Product mix
Exact Sciences Corporation's products are designed to detect diseases and other conditions in the early stages when they can often be treated more effectively. The company specializes in developing non-invasive molecular diagnostics, in which a sample of the patient's bodily fluid (such as blood or saliva) is used to detect disease.
Exact Sciences Corporation's tests use advanced DNA sequencing technologies to analyze the sample, providing results within a few days.
The company's products are designed to improve patient outcomes by providing actionable data that can be used to inform treatment decisions. Exact Sciences Corporation has also developed several initiatives to promote public awareness of its products and make them more accessible.
These initiatives include the "Cologuard Outreach Program" and the "Know Your Risk" campaign, designed to educate the public about the importance of early detection and screening.
Exact Sciences Business Outlook
The most important factor in Exact Sciences' business outlook is its commitment to developing innovative new technologies that improve cancer diagnostics' accuracy, speed, and affordability. Over the past several years, the company has made significant investments in research and development.
It has launched several successful products, such as Cologuard, the first FDA-approved stool-based colorectal cancer screening test. The company also recently launched two new product lines, Exact DX and Exact Risk, designed to provide more accurate and timely cancer diagnostics.
The cancer diagnostics market has a market size that's expected to reach 26.6 billion by 2026, according to Markets and Markets, thus suggesting a significant opportunity for companies like Exact Sciences in this space to further improve their earnings and top lines.