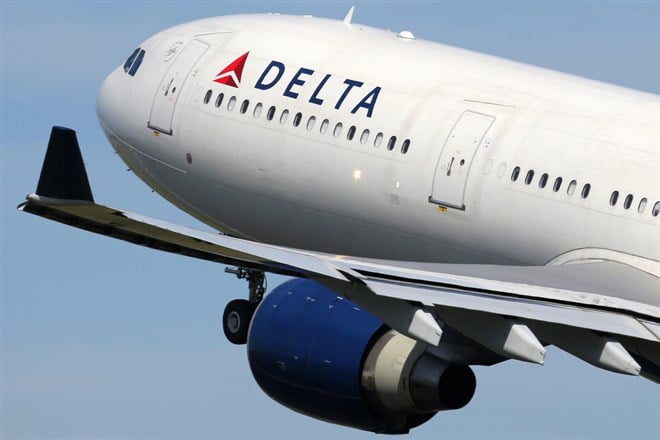 After a few years of slowed travel demand due to the pandemic, things are finally looking up for Delta Air Lines, Inc. (NYSE: DAL). Although demand has yet to reach pre-pandemic levels, the airline has already exceeded investors' expectations with its recently released fourth-quarter earnings report. Delta reported a massive 572% increase in its EPS at $1.48 with revenue also up an impressive 42% at $13.44 billion. These headline numbers were through the roof, so let's look at what this means for the stock in the months ahead. 
Bullish Financials
We'll start by digging into Delta's phenomenal performance in the final quarter of 2022, after being the first major airline to publish its 2022 full-year financial results on Friday. What was perhaps most surprising is that while demand is yet to reach pre-COVID levels, the airline saw an operating revenue for the last quarter that was 8% higher than pre-COVID levels.
It seems the pent-up demand for travel exploded late last year, with travelers eager to find a new escape amid a continuing return to normality. And bullishly speaking, it sounds like the best may be yet to come.
Delta CEO Ed Bastian said with the results that there's still "$300 billion of inherent unmet demand that this industry has not been able to fulfill because of the pandemic. We're going to see, and we'll continue to see, tens of billions of dollars of incremental demand coming into our space."
In a sign of just how much demand Delta expects, they've taken new measures to avoid overcrowding in their Sky Club lounges. Investors will also be happy to see oil prices continue giving up their 2022 gains, and they're expected to continue dropping over the next year. This decent tailwind will support Delta's profitability and cash flow. 
Bearish Headwinds
However, while Delta enjoyed an over-the-top fourth quarter, the consensus is not looking the same for Q1 2023. Leadership warned that "for the March quarter, we expect non-fuel unit costs to increase 3% to 4% year-over-year", with rising labor costs also expected to hurt the balance sheet in the near term. Wall Street had been looking for an EPS of $0.64 in the next earnings report, but this is now being guided as coming in between $0.15 and $0.40. 
Other headwinds exist in the form of the airline industry's old nemesis, COVID. The World Health Organization has once again mandated the use of masks on long-haul flights, a move investors would have hoped consigned to the past. This comes amid news that the COVID-19 variant XBB.1.5 is continuing to spread.
The other major airline stocks, such as United Airlines Holdings Inc (NASDAQ: UAL) and American Airlines Group Inc (NASDAQ: AAL) are expected to take a hit from this too, so it's not just hurting Delta. It's hard to know how travelers will take this news or if the variant will become more serious. 
Getting Involved
For those thinking about getting involved, there's a lot to chew on here. Delta has enjoyed an impressive fourth quarter after pent-up demand for travel exploded during the holiday season, but we can't expect to live off this hype indefinitely. Indeed, landing a strong first quarter of 2023 is likely an uphill battle. Despite this, we remain optimistic about the long-term outlook for Delta, short of any new and worrying developments with COVID. 
The market looks like it's taking a cautious approach, too, with shares down marginally on Friday after the report and looking fairly flat in Monday's pre-market session. Still, shares look set to maintain the uptrend they've been on since last September and should be tracking for fresh 52-week highs in the coming weeks.