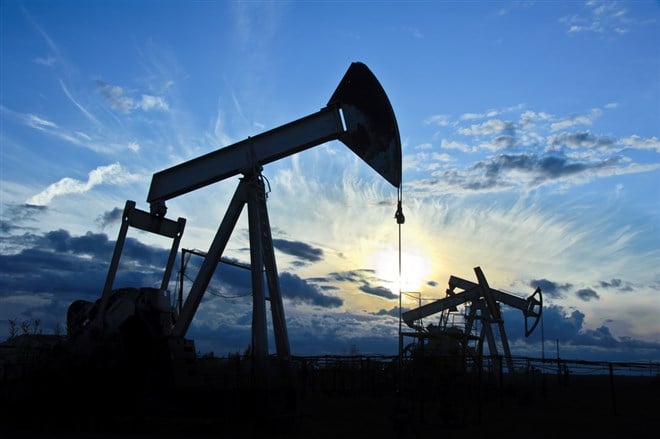 It was a year of many firsts. Scientists discovered a black hole in the center of the galaxy. The men's World Cup saw its first-ever female lead referee.
And in the stock market, 2022 marked the first time that a publicly traded company, Apple, hit the $3 trillion mark (although short-lived) and Facebook parent Meta Platforms reported a quarterly revenue decline. 
It was also the first calendar year that just one S&P 500 sector finished the year higher. The energy sector's 58% advance trounced the next closest group, utilities, along with the nine other sectors in a never before seen rout. Twelve of the thirteen top-performing S&P names were — yep, energy.
This disparity presents investors with an unprecedented choice. Ride the (only) hot sector in 2023? Or rotate to other sectors?
The decision has much to do with oil.
Crude oil futures finished the year up just 8% but not before going on wild swings that helped a range of industry players book big profits. After the Russian invasion of Ukraine caused a spike in oil prices, aggressive central bank rate hikes and China's zero-Covid policy weighed on the demand outlook.
Throwing darts at a board of energy stocks was an effective strategy last year, but more careful energy stock selection will be in order in 2023. Companies with still reasonable valuations and good upside may be the best way.
Does Exxon Mobil Stock Offer Good Value? 
Exxon Mobil Corporation (NYSE: XOM) fired on all cylinders in the third quarter. Increased production, higher realized prices and cost reductions helped profits nearly triple year-over-year. This gave management the confidence to raise its dividend and extend a 40-year streak of dividend hikes.
In addition to a 3.3% forward yield, the world's largest energy conglomerate enters the new year with a P/E ratio of only 9x compared to 20x for the S&P 500.
If you believe commodity prices are headed higher in 2023, Exxon Mobil is as good a bet as any. The balance sheet is on the upswing, as is free cash flow, which points to additional dividend hikes and buybacks.
Pacing ahead of 2025 greenhouse gas emission targets, the stock is also becoming more ESG-friendly which should attract a new set of investors. Three out of five sell-side analysts call Exxon Mobil a buy with an average price target of another 10% upside (on top of the dividend).
What Energy Stock Does Wall Street Love Most?
Like Exxon Mobil, Schlumberger Limited (NYSE: SLB) soared roughly 80% last year. The leading oilfield services provider benefited from higher demand from oil producers amid a scramble to capitalize on higher crude prices. Its Q3 profit growth of 75% crushed Wall Street's elevated expectations thanks to a strong performance in all four operating segments and geographies.
Given the shaky economic outlook, this is the kind of broad-based energy investors should be hitching their wagons to in 2023.
Despite the group's 2022 run, valuations for oilfield services companies remain historically low. At 26x earnings, Schlumberger is trading near the low end of its 20x to 40x range. Earlier in the year, Schlumberger's board turbo-boosted its dividend by 40%, and it could reinstate share repurchases as early as the Q4 report.
Even better, the Street is unanimously bullish on Schlumberger, with an average target of $60. This makes it another value-packed energy stock to keep on the radar this year.
Does ConocoPhillips Stock Have More Upside?
ConocoPhillips (NYSE: COP) was up 'only' 63% in 2022, but this followed an 81% surge in 2021. The E&P more than doubled profits in Q3 benefiting from higher production and oil and natural gas prices. While Q4 and 2023 aren't expected to bring the same type of growth, ConocoPhillips' low-cost advantage in what could be an extended period of volatile oil makes it a stock to hang onto or buy on the dips.
The recent pullback from November's $138 record high may be a good place to start. 
At 8.5x earnings, ConocoPhillips still offers good bang for the buck. Management's shareholder-friendly moves are even more reason to like the stock. In addition to a growing base dividend, the company offers a variable return on capital (VROC) based on its quarterly performance. So while the published dividend yield of 1.7% seems low, including Q3's $0.70 per share, VROC implies a 4.1% forward yield.
Plus, more cash will flow back to shareholders in the form of buybacks after $20 billion was added to an existing program. Over 80% of analysts are bullish on ConocoPhillips. This includes Piper Sandler, which raised its price target to $157 — almost $20 above the all-time high last month.