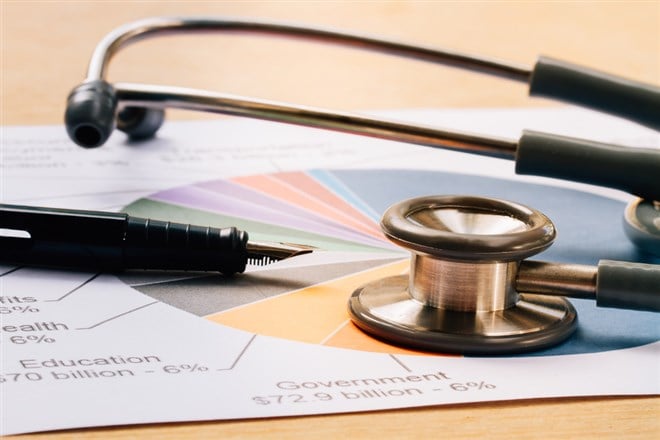 For those interested in playing the long game with the market, healthcare stocks can make solid additions to a portfolio. Companies in this sector have the potential for a lot of revenue, which translates to stock earnings unless the stock is not effectively valued. When a stock is undervalued, it has fair potential to outperform expectations. These four undervalued healthcare stocks could kick off your 2023. 
Pfizer Inc.
Pfizer Inc. (NYSE: PFE) stock is down 10.50% since this same time last year, and it projects that earnings will decline by -26.93% by the same time next year. The stock price started to slip as the coronavirus improved, despite a successful launch of its RNA-based COVID-19 vaccine in 2021. In addition, Pfizer's 9.55 forward P/E is roughly 30% lower than the sector median, suggesting that investors believe the stock is not earning as efficiently as the sector as a whole. These factors have all likely contributed to the stock's "hold" rating.
However, this less favorable outlook contrasts the fact that the firm has paid a quarterly dividend for at least 83 years and consistently increased its dividend over the last 12 years. It is now at $1.60 with a 3.22% yield and a 30.77% payout ratio. Furthermore, COVID-19 vaccine sales totaling $36.7 billion represented 45% of Pfizer's total revenue for 2020. Pfizer expects vaccine sales to top $54 billion this year, which could mean more revenue and potential earnings than initially anticipated.
Regeneron Pharmaceuticals Inc.
Regeneron Pharmaceuticals Inc. (NASDAQ: REGN) also develops and manufactures novel medicines for treating various diseases, including COVID-19. The company also found the COVID-19 pandemic a bit of an earnings windfall, as its vaccine contribution was also quite successful. When the pandemic began to fade, Regeneron made a timely transition to focus on a new eye drug, a move which seemed to please investors. That strategic move then went on to help push REGN stock value up nearly 21% in the last 12 months. 
Regeneron only trades at 15.26 times its earnings, while the $772.15 price target represents an upside of only 8.1%, so take caution. Compared to its revenue growth over the last three years — 47.3% — Regeneron may be highly undervalued. 
Innoviva Inc.
Innoviva Inc (NASDAQ: INVA) is a San Francisco-based healthcare royalty and asset manager. Their stock value is currently down nearly 25% since the same period one year ago. In the first week of the year, Innoviva closed out down about 1%. This is just a little beyond the losses posted by the S&P 500, which lost 0.4%. The Dow Jones Industrial Average saw nearly the same loss, while the Nasdaq took the biggest hit at 4.72%. Innoviva may align with the overall market even if it is off to a rocky start. The good news for Innoviva is that its stock value is now up nearly 6% over the last three months.
Of course, the company needs more than incremental growth to determine an undervalued stock price. But with a current share price of around $13 and a price target of $14, the stock's upside is only about 7%. Additionally, analysts project earnings will plunge 59.37% despite a current P/E of only $4.11. However, only a few months ago, Innoviva boasted a three-year revenue growth rate of 21.8%, besting more than 68% of Innoviva's index peers. These figures suggest outcomes could eventually outperform.
Exelixis Inc. 
Genomics-based drug discovery company Exelixis Inc. (NASDAQ: EXEL) is down nearly 8% from the same period one year ago, but that is still about 10% off the 52-week bottom. While it's not a stellar performance, more of the same could be on the horizon. 
However, Exelixis's forward P/E (17.46) is still better than much of the industry, and its $28 price target represents an almost contradictory upside of 68.8%. This would break through the previous 52-week high ($23.40). In addition, analysts project earnings for the oncology-focused biotechnology company could grow by more than 103%, which would be on track with the EPS this quarter ($0.23) compared to one year ago ($0.12). If everything falls into place, it could make a surprising run.