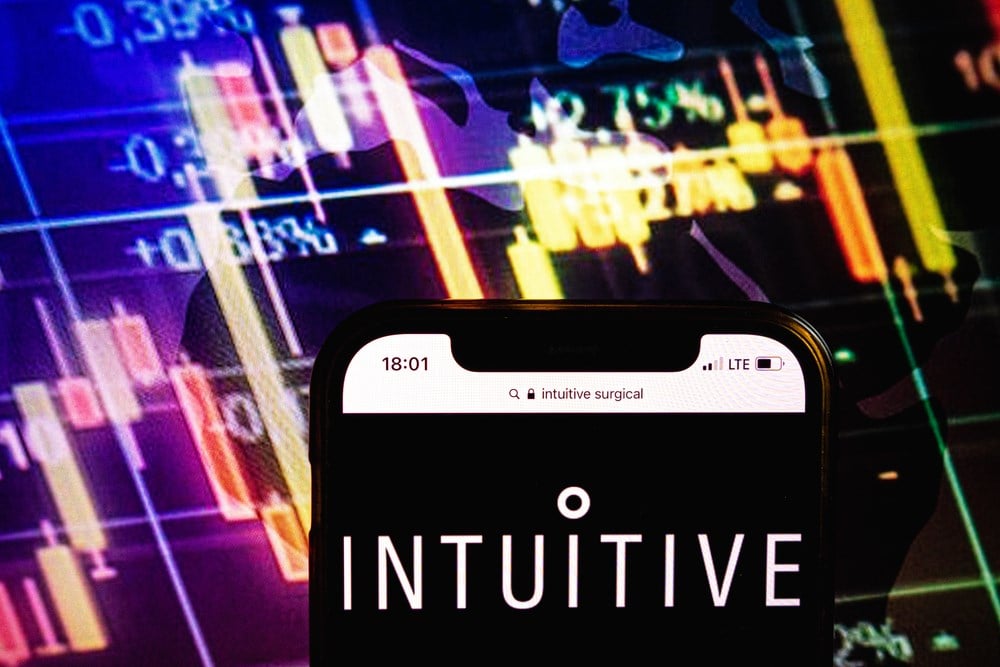 Intuitive Surgical (NASDAQ: ISRG) manufactures the revolutionary da Vinci Surgical System, the leader in robotic-assisted surgery systems. Da Vinci is turning 23 years old this year, with over 10 million surgeries worldwide performed since its launch in 1995. The company has continued to innovate and grow its installed base to 7,779, which still grew revenues by 14.3% in Q1 2023. Each installed robotic system sets the Intuitive Surgical ecosystem in place as the healthcare company continues to generate revenues from surgeries, equipment, training,  and support. It's continuing to expand its digital services.
Recovering from the Pandemic
The pandemic disrupted elective and non-emergency surgeries put on hold to make room for COVID-19 patients. Normalization has returned for surgeries. China lifted its COVID-19 restrictions which should be a tailwind for the company after January 2023. The company has dominated the robot-assisted surgery market for over two decades and remained king of the hill despite any competition from other medical device makers like Microbot Medical Inc. (NASDAQ: MBOT),  Boston Scientific Co. (NYSE: BSX), Abbott Laboratories (NYSE: ABT), Stryker Co. (NYSE: SYK), Becton Dickinson& Co.  (NYSE: BDX), and Medtronic plc (NYSE: MDT).   
Use Cases
The da Vinci systems have evolved through many generations and expanded to many models enabling minimally invasive surgeries in general surgery and specialties, including cardiothoracic, urologic, gynecologic, and head and neck. It has the highest worldwide procedures in general surgery, hernia repair, cholecystectomy and bariatric procedures.
FDA Approval for Prostatectomy
On April 28, 2023, it received FDA approval for simple and radical transvesical prostatectomy, a surgical approach through the urinary bladder. Simple prostatectomy is a surgical procedure for removing part of the prostate gland for conditions like benign prostate hyperplasia (BPH), which can cause blockage of urine flow and bladder issues. It also approved the da Vinci SP system for radical prostatectomy, which is the procedure to remove the entire prostate. This is done in cases of prostate cancer.
Back in Growth Mode
On April 18, 2023, Intuitive Surgical released its fiscal first-quarter 2023 results for the quarter ending March 2023. The company reported an earnings-per-share (EPS) profit of $1.23 versus consensus analyst estimates of $1.20, beating estimates by $0.03. Revenues grew by 14.3% year-over-year (YoY) to $1.70 billion, beating analyst estimates for $1.53 billion. Global da Vinci procedures grew 26% YoY. The quarter reflected continued COVID-19 disruptions in China, hurting January volumes. Intuitive Surgical placed 213 da Vinci Surgical Systems in the quarter, compared to 311 in the year-ago period. It grew its installed base to 7,779 systems, up 12% YoY. Instruments and accessory revenues,  which include Ion catheters and multi-port accessories, rose 22% to $986 million compared to $810 million in the year-ago period.
The CEO's Take
Intuitive Surgical CEO Gary Guthart commented, "For 2023, our priorities are as follows: First, we are focused on increased adoption for our priority procedures in countries through outstanding training, commercial and market access execution. Second, we are pursuing expanded indications and launches for our new platforms. Third, we are focused on excellence and continuity of supply, product quality and services provision as we emerge from pandemic stresses."
Analyst Actions Sink Shares
After the Q1 2023 earnings report, 11 analysts reiterated their Outperform, Overweight, and Buy ratings and price target increases. Notable names include JP Morgan reiterating its Overweight rating with a raised price target of $335 from $250. Bank of America reiterated its Buy rating raising its price target to $315 from $300. Evercore ISI has an In-Line rating raising its price target to $270 from $240 while shares were trading in the $300s. Most of the price targets were at or below where ISRG was trading, which is likely one of the reasons for the pullback after hitting 52-week highs.
Intuitive Surgical analyst ratings and price targets can be found at MarketBeat.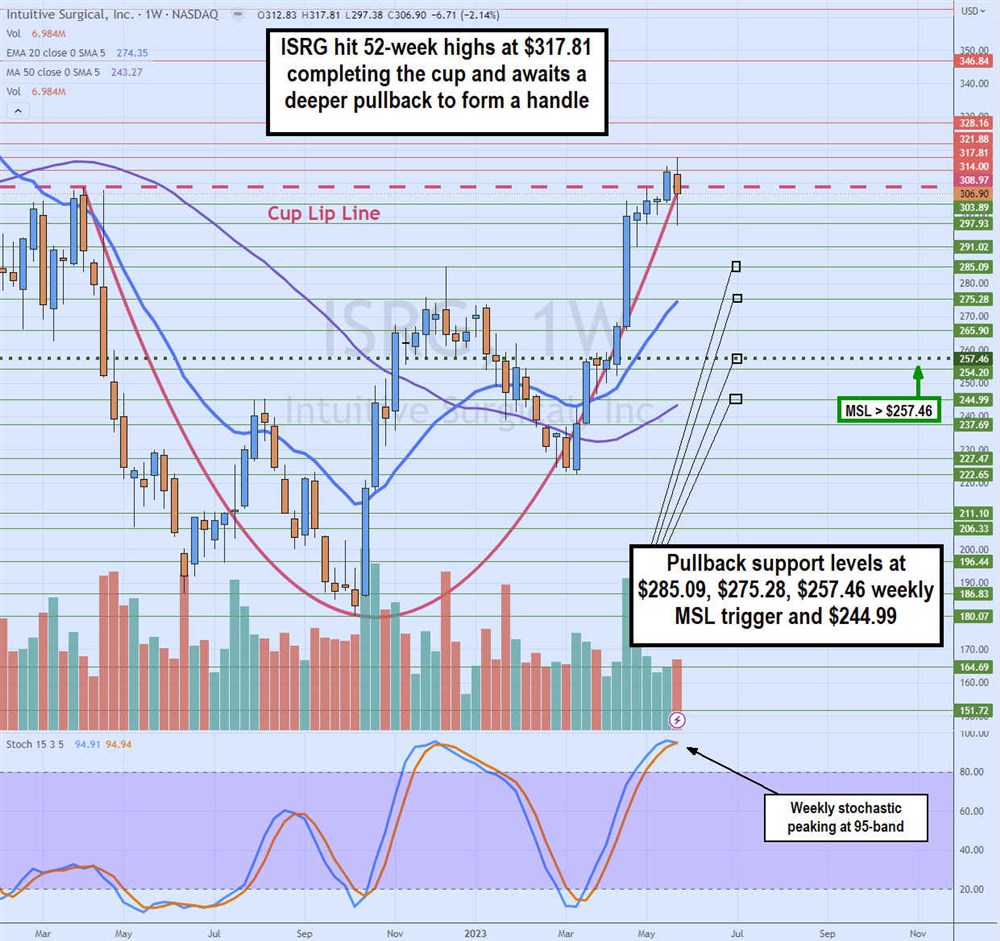 Weekly Cup Awaiting Handle
The weekly candlestick chart on ISRG illustrates the year-long cup formation that commenced on the cup lip line peak at $308.97 commencing in April 2022. ISRG fell to a low of $180.07 by October 2022 before staging a rally to $285.09 in December 2023. Shares formed a market structure high (MSH) sell trigger on the breakdown under $257.46, sending ISRG to a low of $222.65 in March 2023. Incidentally, the weekly market structure low (MSL) buys triggered at the same level as the MSH sell trigger on a breakout of $257.46. This caused a rally to re-test the cup lip line at $308.97 and complete the cup.
ISRG continued to peak at the new 52-week high of $317.81. Shares peaked out to form another MSH sell trigger under $297.93. The weekly stochastic is peaking at the 95-band. Pullback support levels are $285.09, $275.28, $257.46 MSH/MSL trigger and $244.49.