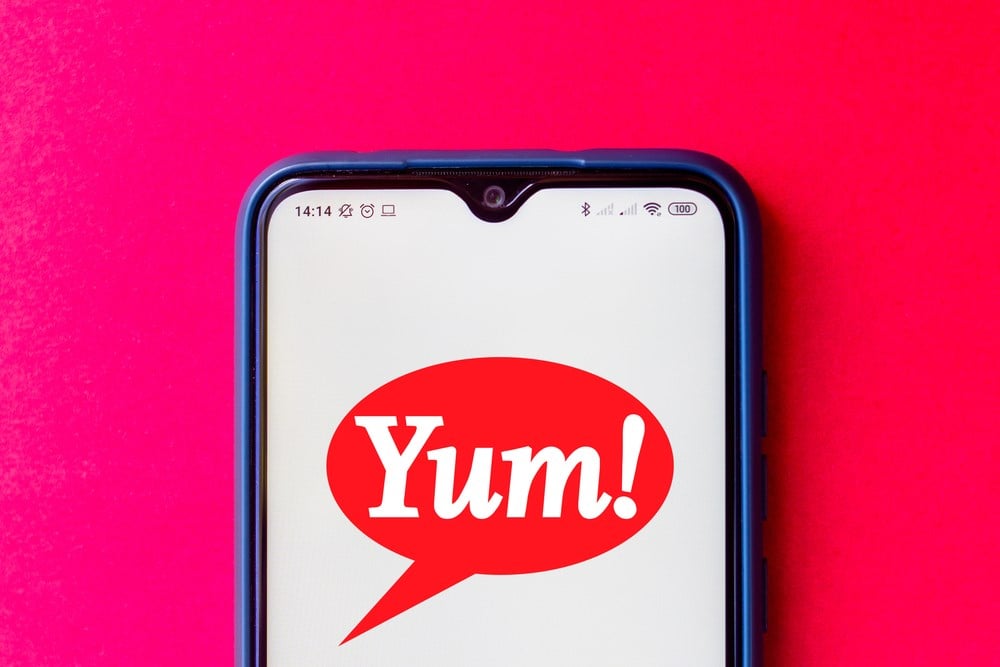 Shares of Yum! Brands (NASDAQ: YUM) are moving lower on an earnings shortfall that investors could easily overlook. The Q1 earnings were slightly below expectation but supported by solid margins and growing volume. In a world where volume is shrinking for many companies, this is an excellent problem to have because it is far easier for Yum! Brands to fix margin than volume. The point is that Yum! Brands had a good quarter and continues to invest in new stores.
The company has also wholly exited the Russia business, which will soon cease to be a headwind for results. What this means is Yum! Brands' stock price may move lower in the near term, but it will continue to set new all-time highs after new all-time highs in the long term. 
CEO update: "The demand for our iconic brands is evident as our incredible teams and franchise partners delivered another strong quarter with system sales growth of 13% excluding Russia, driven by 8% same-store sales growth and continued development momentum. We're seeing broad-based accelerating digital sales growth leading to a record quarter for both digital system sales of nearly $7 billion and digital sales mix that exceeded 45%."
The Analysts Like The Flavor Of Yum! Brands Results 
Take them how you like, but the analysts are happy with Yum! Brands results. Marketbeat.com has only picked up 1 update, a price target increase from UBS, but a significant increase from $148 to $156. That's above the $146 consensus and leading it higher; the consensus has been trending higher over the last 12 months and may be expected to continue. The $146 consensus is in the new all-time high territory, so a new all-time high is also likely.
Evercore ISI did not alter its rating or price target but has the stock pegged at Outperform and came out in defense of the stock. In their view, Yum! Brands has the broadest operating margins of any of its peers, and management pointed out easing price pressures in the conference call. 
Yum! Brands posted an 11% increase in FX-neutral revenue for the quarter, which aligned with the analysts' estimates. The gain was driven by strength in all segments, led by a 12% increase at Taco Bell, an 11% increase at KFC, and a 10% increase at Pizza Hut. Comp-store sales were robust at 8% compared to the consensus of 5.8%, aided by a 3% increase in store count. Digital sales are underpinning growth and rose to a record $7 billion or 45% of the total.
Margin came under pressure and resulted in weaker-than-expected earnings. The GAAP operating profit rose only 3% compared to the top-line strength. The core operating profit, which includes a 1% headwind from Russia, rose 11% to match the top line strength but adjusted EPS of $1.06 missed by more than a nickel. The company doesn't issue guidance but is showing momentum and planning to open more stores, so growth is in the outlook. The analysts expect Yum to grow revenue by mid-to-high single digits this year and next. 
Yum! Brands Returns Capital To Shareholders 
Yum! Brands carries a similar valuation to McDonald's (NYSE: MCD) despite having a lower dividend yield, but you get more growth for the money. McDonald's posted low-single-digit growth compared to Yum!'s higher single-digit reported growth, which may continue through the end of the year. Regardless, Yum!'s payout is only 52% of the earnings outlook, and it has a history of growth, so it adds value to the investment. 
The chart is iffy because the pre-release plunge in price action may mark a top for the stock. However, the top would be near-term and likely to lead to a buying opportunity later this year. The monthly chart is bullish and shows a trending market that is well-supported at its trendline. The market may reach the $120 level to retest that trend line, but such a deep decline is not expected.