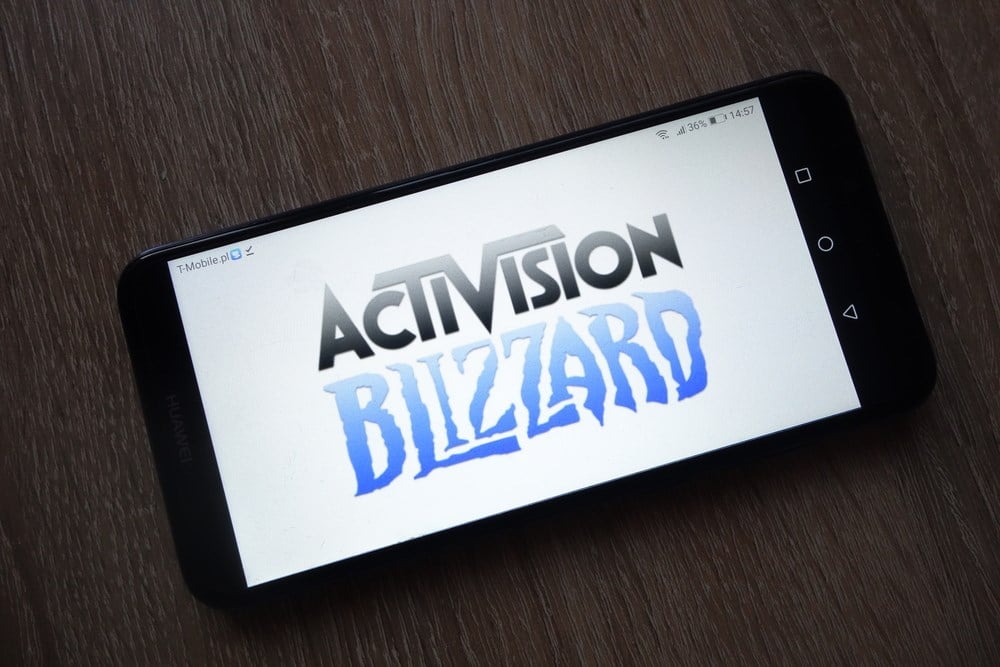 Video game publisher Activision Blizzard Inc. (NASDAQ: ATVI) is enjoying unprecedented success with its Diablo IV video game release on June 6, 2023. It has been the fastest-selling videogame in Blizzard's history, raking in $666 million in the first five days. However, this isn't an overnight success story; it's a culmination of more than two decades spawning a series of novels based on the epic and compelling story about the eternal conflict between heaven and hell.
It has built of following of over 22 million players and growing. It has sparked buying interest in Activision stock, which is still wholly anchored toward the impending FTC lawsuit to block its merger with Microsoft, with a termination deadline of July 18, 2023. It also contains a $3 billion termination penalty fee that Microsoft must pay Activision should the deal not be consummated by then. 
FTC Lawsuit
The timing of this runaway success coincides with the critical U.S. Federal Trade Commission (FTC) court hearing to determine the fate of the Microsoft Co. (NASDAQ: MSFT) acquisition of Activision Blizzard. The trial is set for late June, and a decision is expected sometime in July 2023. The repercussions of the decision will resonate hugely among the big videogame publishers Electronic Arts Inc. (NASDAQ: EA) and Take-Two Interactive Software Inc. (NASDAQ: TTWO), and even game engine platform Unity Software Inc. (NASDAQ: U).  
Microsoft Acquisition
On January 24, 2022, Microsoft made a $95 per share all-cash offer for Activision Blizzard valued at $68.7 billion. Activision accepted the offer but has been awaiting FTC approval to close. The European Union (EU) recently approved the merger in May. However, the FTC has filed suit to oppose it, stating that it would harm competition in the video game industry since Microsoft also owns Xbox. It can make games only available for the Xbox, forcing consumers to purchase an Xbox to play their favorite games.
Anti-Competitive Practices
The merger would effectively make Microsoft the third largest video game publisher and owner of hallowed franchises like Call of Duty, World of Warcraft, StarCraft, Candy Crush, Spyro the Dragon and Diablo. Microsoft argues that the video game industry is already competitive, and the merger wouldn't harm competition.
Sony Co. (NYSE: SNE), the maker of PlayStation, has been accused of anti-competitive practices with exclusive releases and the tying of exclusive games to purchase its PlayStation console. They've also been accused of refusing to deal with third-party developers attempting to publish their games on the PlayStation console. This has prompted the EC to probe Sony's anti-competitive practices allegations.
Analyst Upgrade
Based on the flourishing Diablo IV business, Baird raised its price target on Activision to $90. The strong launch of Diablo IV has compelled analyst Colin Sebastian to raise his bookings estimates and EPS to $2.4 billion and $0.91m, respectively. This is from previous estimates of $2.2 billion and $0.73 per share. He pinned estimates on 11 million units being sold, which still leaves an upside. He boosted his full-year 2023 bookings to $9.75 billion, up from his $9.67 billion previous estimate.
Activision Blizzard analyst ratings and price targets are at MarketBeat.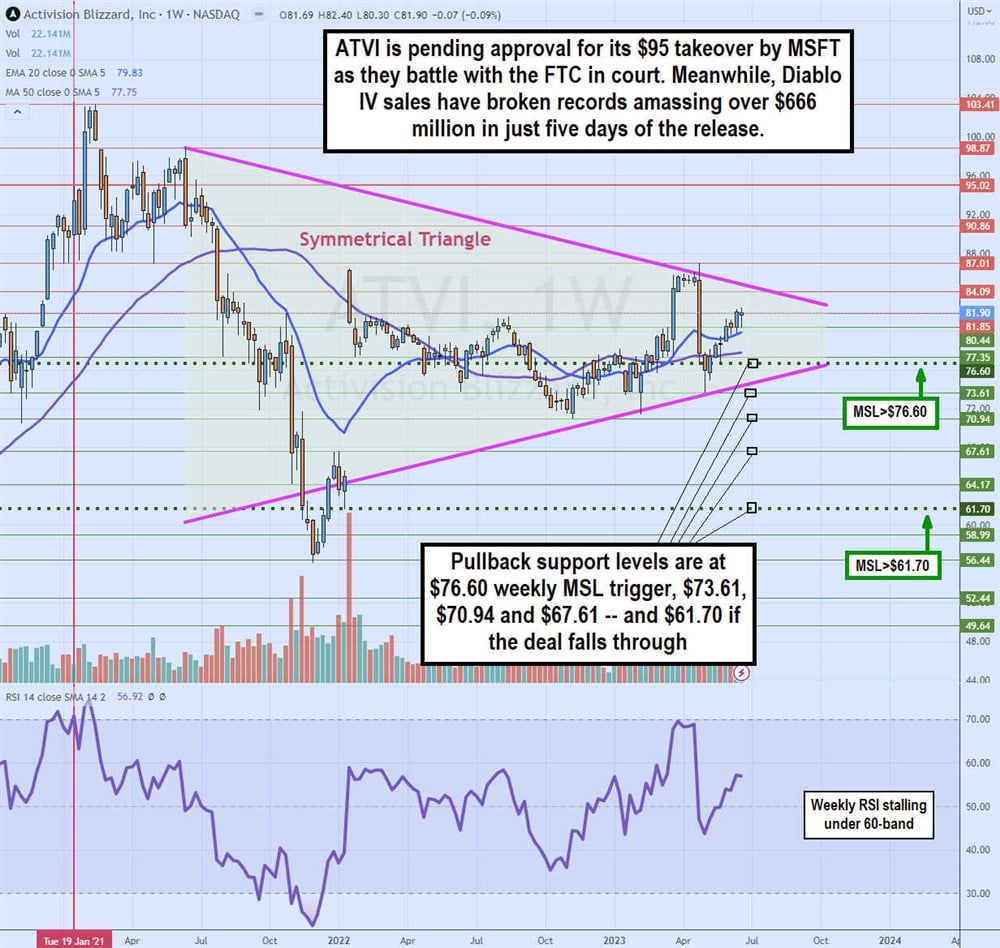 The definitive beginner's guide to reading stock charts can be found free on Marketbeat.
 Learn how to use the RSI indicator on MarketBeat.
Weekly Symmetrical Triangle
The fate of ATVI stock lies in the hands of the FTC court case ruling, estimated to be released in mid to late July. If the deal is approved, the acquisition price of $95.00 is the upside potential. However, if the deal falls through, there is potential to lower the weekly market structure low (MSL) trigger area to $61.70.
The weekly candlestick chart has been in a symmetrical triangle since the acquisition was announced on July 18, 2021. Shares spiked as high as $103.41 and fell as low as $56.44. The trading range has slowly been ratcheting tighter and tighter, as indicated by the lower highs and higher lows forming a symmetrical triangle. Eventually, it will resolve in the coming weeks to months. The pullback support levels are $76.60 weekly MSL trigger, $73.61, $70.94, and $67.41 with a wish list buy at $61.70 if the deal falls through.