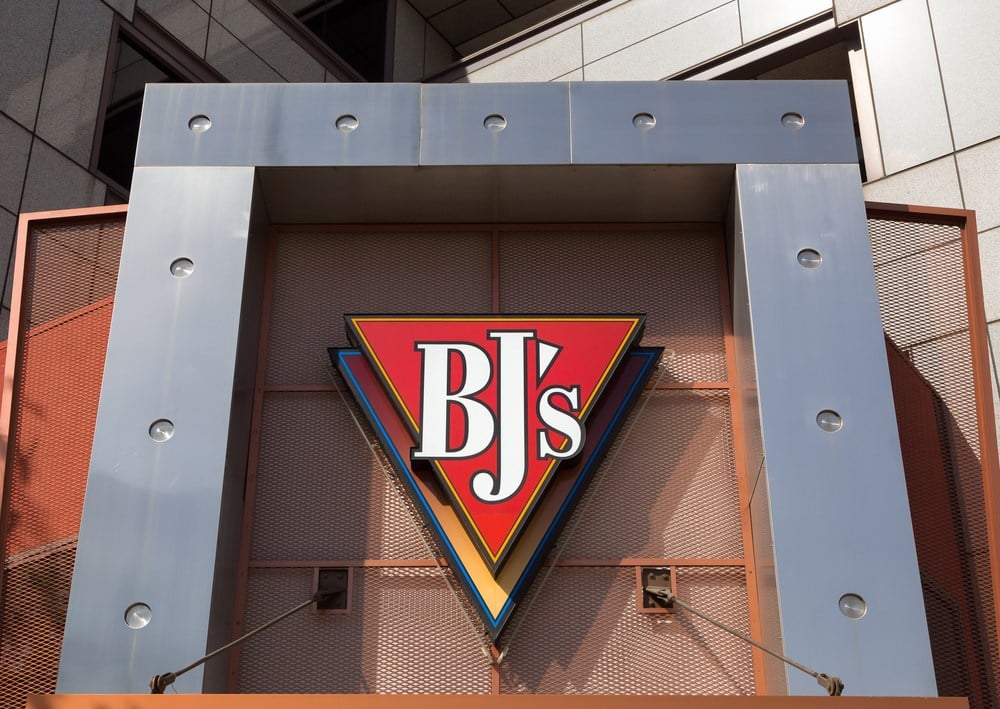 The restaurant industry is bouncing back strong from pandemic-era closures, as well as labor shortages and inflation that's increasing their costs and squeezing customers' budgets.
BJ's Restaurants Inc. (NASDAQ: BJRI) is among restaurant stocks serving up a notable turnaround. Like many others in its industry, profitability was off the table in 2020. That remained the case in 2021 and 2022, although losses narrowed significantly. 
Earnings surged 150% in the most recent quarter to $0.15 per share. The stock is working on a potentially constructive price consolidation, with support above key moving averages, as it nears a buy point above $36.14.
Wall Street Sees 62% EPS Increase
This year, Wall Street expects net income of $0.68 a share; that's seen rising by 62% next year to $1.10 per share. 
For the current quarter, analysts pegged earnings at $0.32, which would mark an increase of 113%. Revenue is expected to come in at $349.38 million, an increase of nearly 6%. 
MarketBeat's BJ's Restaurants earnings data show the company exceeded sales and earnings views in the past three quarters.
In the first-quarter conference call, CEO Greg Levin said comparable restaurant sales increased by 9%. The company also made meaningful progress on restaurant-level margins, reaching 12.6% compared to 9.8% last year, despite inflationary pressures.
Consolidating Above Key Moving Average
BJ's Restaurants stock is forming a consolidation below a February 23 high of $36.14 buy point. Shares are trading above their 50-day and 20-day averages as the stock continues to etch its base. 
The stock's performance has stabilized since October, when it reversed a downward trend that began in May 2021.
Shares are up 5.77% in the past month. 
BJ's Restaurants analyst ratings show a consensus view of "moderate buy," with a price target of $34, an upside of 6%. 
Keep in mind: This is a small stock with a market capitalization of just $750.7 million. As such, it's not likely to attract as much analyst coverage as larger restaurant chains, such as Darden Restaurants Inc. (NYSE: DRI), whose market cap is $19.88 billion. 
In the U.S., small caps are less likely to pay dividends than larger companies. BJ's actually did have a shareholder payout starting in 2017, but it suspended the dividend due to the loss of business during the pandemic and has not yet reinstated it, as there haven't been any profits since 2019. 
Buying Back Shares
The company does have a share repurchase plan. It repurchased shares valued at approximately $2.4 million during fiscal 2022. As of January 3, 2023, BJ's had approximately $22.1 million available under its current share repurchase plan.
The company says its points of differentiation in the highly competitive restaurant industry include regular updates to its menu and the ability for customers to modify menu items to accommodate their tastes.  
In its early days, the company's menu focused on pizza, and to this day, it offers almost 20 signature flavors of pizza and made-to-order combinations. 
It also produces its own craft beers, including signature brews and rotating seasonal beers, in addition to other domestic beers and craft beers made by other brewers. 
Beer Club And Remodels
The company is continuing to innovate. One measure includes tests of BJ's Brewhouse Beer Club in most of its California locations on a subscription basis. It also plans to remodel at least 30 restaurants this year, or approximately 15% of its base. It's completed nearly half of the 2023 planned remodels, in addition to nine completed in 2022. In the earnings conference call, Levin said the remodeled restaurants are all driving incremental comp sales. 
The company has also initiated a cost-cutting program with the aim of achieving at least $25 million in cost savings. That's one factor behind the rate at which earnings increases are outpacing revenue growth. The company noted that cost savings are counteracting some effects of inflation. 
A look at the BJ's Restaurants chart, using a daily view, shows some wide intraday price swings. That's not uncommon in smaller stocks, as there's less liquidity. The stock has a beta of 1.31, meaning it's more volatile than the broader market, something investors should be cognizant of.