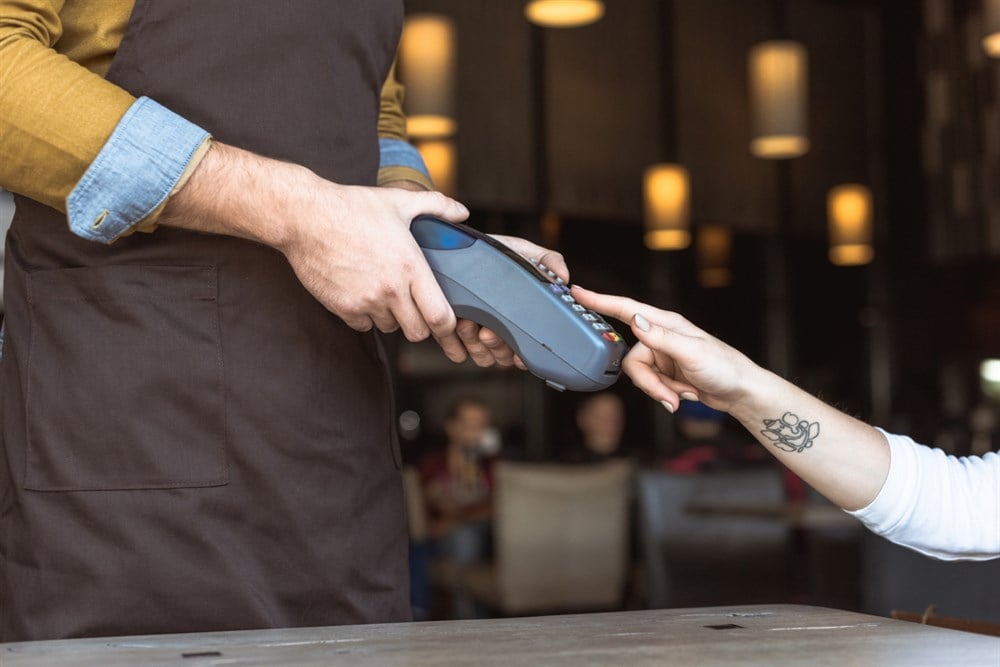 At first glance, it's easy to mistake Toast, Inc. (NASDAQ: TOST) as a delivery application like Door Dash Inc. (NASDAQ: DASH) or an Uber Technologies Inc. (NASDAQ: UBER) Uber Eats service when placing a restaurant online order. However, it's a complete restaurant ecosystem management platform.
The restaurant point-of-service POS platform offers an all-in-one restaurant ecosystem management platform. It's taking the restaurant world literally by storm as it continues to grow its market penetration to 10% of the industry and is climbing.
Big Customers
Some of the largest restaurant chains in the country use the Toast platform, including the largest U.S. restaurant group Darden Restaurants Inc. (NYSE: DRI). Other well-known and popular restaurants include Bloomin' Brands Inc. (NASDAQ: BLMN), Red Robin Gourmet Burgers Inc. (NASDAQ: RRGB) and The Cheesecake Factory Inc. (NASDAQ: CAKE). The company closed 5,500 locations in the latest quarter, surging its restaurant locations north of 85,000.
Toast Platform Features
The Toast POS platform includes customized hardware and a fully end-to-end cloud management platform. The POS system includes reporting, inventory and table management features. Its Toast bookings powered over 450,000 reservations in the latest quarter.
Toast also enables a customizable loyalty program and its online ordering platform, connected to the POS platform, to ensure streamlined tracking, order and payment processing. Payments are processed electronically through various options, including credit and debit cards, third-party processors, and Apple Inc. (NASDAQ: AAPL) Apple Pay.
The platform also includes marketing tools, including email marketing, social media and online advertising. The system offers payroll and team management solutions and integrates with various payroll management providers like ADP Inc. (NYSE: ADP) and Paychex (NASDAQ: PAYX).
Hypergrowth Continues
On May 9, 2023, Toast released its fiscal first-quarter 2023 results for March 2023. The company reported an adjusted earnings-per-share loss of 16 cents, excluding non-recurring items, versus consensus analyst estimates of a 7-cent loss, missing estimates by 9 cents. Revenues rose 53.1% year-over-year (YOY) to $819 million, beating analyst estimates of $763.11 million. Annual run rate (ARR) rose 55% to 987$ million.
Gross payment volume (GPV) rose 50% YoY to $26.7 billion. Toast added 5,500 new restaurant locations in the quarter, resulting in over 85,000 locations at the end of the quarter.
The company notes that small, medium-sized business (SMB) restaurants are a growth sweet spot for them. An example is that mid-Atlantic City tipped into a rapid growth stage, growing locations by 60% in two years, marking a 20% penetration amongst SMB restaurants.
CEO Insights
Toast CEO Chris Comparato commented, "Toast's first quarter results marked a strong start to the year, coming in ahead of expectations thanks to the consistent execution of our core strategy: driving location growth, more deeply serving our customers across all segments of the restaurant industry, and pushing the industry forward through product innovation."
He noted how the restaurant industry is undergoing a generational shift to cloud-based technology with Toast at the forefront. Despite uncertainty in the macro environment, customers spending at restaurants is still healthy. The company only has a 10% market share if the U.S. restaurant industry, so there's much room for growth.
Upside Guidance
Toast raised its Q2 2023 revenue guidance of $920 million to $950 million versus $903.91 million consensus analyst estimates. Adjusted EBITDA is expected to be down $10 million to break even. Toast also raised its full-year 2023 revenue guidance to $3.710 to $3.800 billion versus $3.65 billion consensus analyst estimates.
Its previous guidance was $3.57 billion to $3.66 billion. Adjusted EBITDA is expected to be down $10 million to $10 million from previous estimates of down $30 million to $10 million. On July 11, 2023, Jeffries upgraded Toast to a Buy rating with a $28 price target.
Toast Inc. analyst ratings and price targets are at MarketBeat.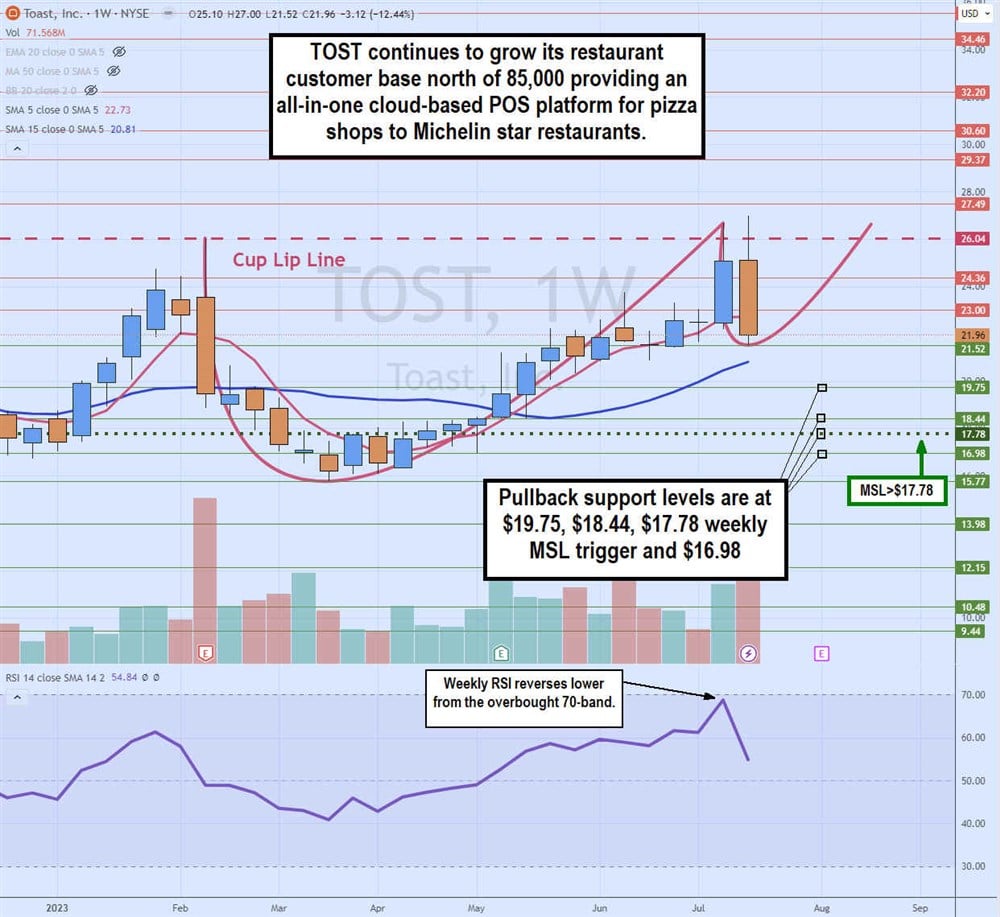 Weekly Cup and Handle Attempt
The weekly candlestick chart TOST illustrates a potential cup and handle pattern. The cup lip line started to form after peaking out at the $26.04 level in February 2023, as shares fell to a low of $15.77 in March 2023.
The weekly market structure low (MSL) breakout triggered through $17.78 as shares made a rounding bottom that gained momentum, driving shares up to overshoot the cup lip line in July 2023.
However, repealing the $0.99 fee for the new version of its platform sent shares reeling by more than 16%, setting up a potential handle formation as shares tagged $21.52.
That caused the weekly relative strength index (RSI) to peak and reversed off the overbought 70-band. The company has stated that it won't have any material impact on its full-year 2023 guidance, which was raised earlier. Pullback support levels are $19.75, $18.44, $17.78 weekly MSL trigger and $16.98.