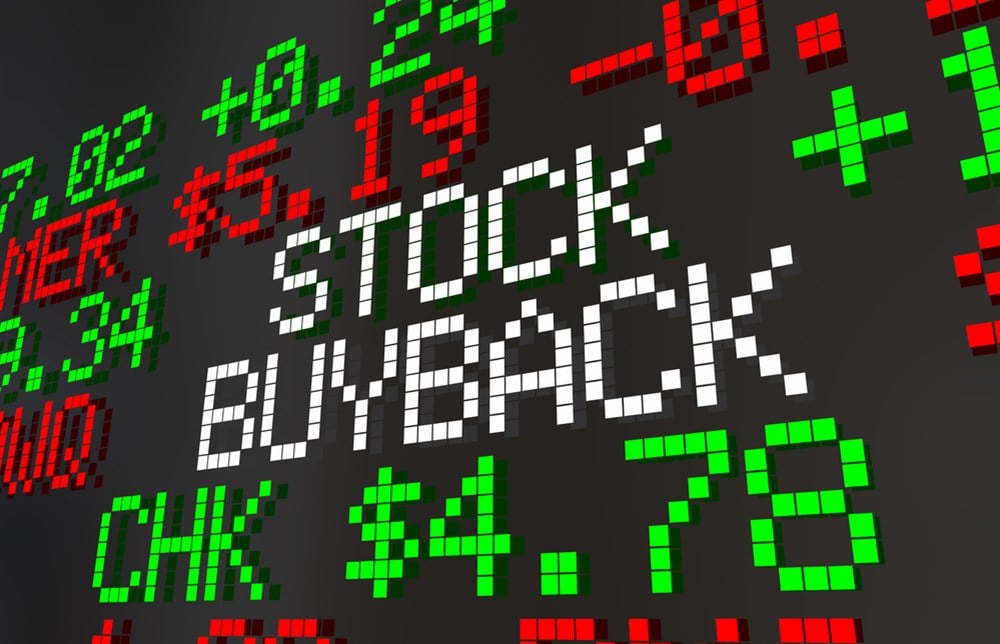 Share buybacks (also called stock buybacks or stock repurchases) are a common way for a publicly traded company to deliver value to its shareholders. As the name implies, a share buyback is a board-approved action that allows a company to buy shares of its own stock on the secondary market.  
The reason that share buybacks benefit shareholders comes down to supply and demand. By buying its own shares, the number of outstanding shares decreases and the price of each share increases. This theoretically increases demand and drives an even higher share price. That's why companies that issue share buybacks are often a favorite of investors, particularly long-term investors.  
One criticism of share buybacks is that, in some cases, it is a poor use of cash. Additionally, many companies that issue regular share buybacks already have high valuations. So, the buyback may not offer shareholders as much value as expected.  
However, in many cases, companies that issue share buybacks are cash-rich companies. Therefore, the cash it uses to buy shares should not hurt its current or future growth prospects. In these cases, like the three companies listed below, the share buyback becomes the cherry on top, not the whole sundae. 
This Oil Giant Has a Rock-Solid Balance Sheet  
Chevron Corporation (NYSE: CVX) is historically one of the companies that offer the largest amount of share buybacks in pure dollar terms. In February 2023, the company reaffirmed its commitment to a $75 billion share buyback program, one of the largest among publicly-traded companies.  
Share buybacks are not uncommon with oil and gas companies. Exxon Mobil Corporation (NYSE: XOM) also announced a $50 billion share buyback program through December 2024. The cyclical nature of the oil business can cause oil prices to fluctuate sharply. Share buybacks are a good way for these companies to retain the value of its shares. 
And in the case of Chevron, the company has one of the most stable business sheets in the sector, along with a history of generating strong free cash flow.  
Share Buybacks Are Just Another Reward for Shareholders  
Microsoft Corporation (NASDAQ: MSFT) announced a $60 billion share buyback program in 2022. The company typically refreshes its buyback programs every few years, so the current program should run through 2025. 
Its buyback program is only one way that Microsoft delivers shareholder value. The company has multiple revenue streams including a robust cloud computing business and, more recently, its leadership and investment in generative AI, specifically ChatGPT.  
Microsoft is one on the few companies with a trillion-dollar market cap. As of this writing, it sports a market cap of $2.24 trillion. The takeaway for investors is that Microsoft is a cash-generating machine. Therefore, investors should have no concerns that a buyback will get in the way of the company's future growth.  
The Company's Initial Buyback May Only Be the Beginning 
Salesforce, Inc. (NYSE: CRM) is one of the surprising names on this list of companies offering robust share buyback programs. 2022 the company initiated its first $10 billion share buyback program. That turned into a $20 billion share repurchase program in 2023.  
CRM stock is up over 70% in 2023. And a big reason for that is the company's leadership in AI-powered CRM for business. The company launched its EinsteinGPT which enables its customers with greater efficiency and enhanced client experiences.  
However, it still is significantly lower than the all-time high the stock reached in November 2021. In fact, the stock plummeted over 50% between November 2021 and December 2022. That will allow for higher stock price growth in addition to whatever lift shareholders get from the buyback program.