Amidst the captivating blend of urban amenities and southern charm, Atlanta's luxury real estate market is undergoing a remarkable renaissance, enticing high-net-worth individuals with an unrivaled opportunity for opulent living.
Atlanta, GA, United States - August 29, 2023 —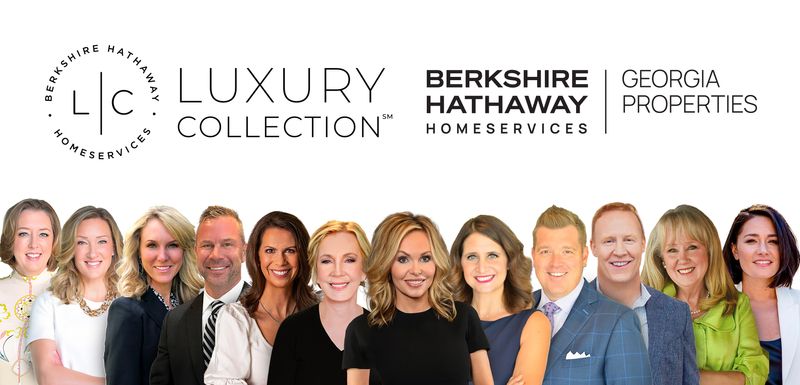 With a population of six million and a thriving economy, the city's luxury segment is poised to redefine sophisticated living. Leading the forefront of this evolution is Lori Lane, Senior Vice President of Luxury Collection Berkshire Hathaway HomeServices Georgia Properties, alongside her team of exceptional agents and realtors who are reshaping Atlanta's residential landscape. This dynamic group of real estate professionals were recently interviewed and featured on Elite Property News and Real Estate Today for their insights. 
Lane offered a comprehensive outlook on Atlanta's luxury market. From historic mansions that exude timeless grandeur to contemporary penthouses that define elegance, the city's luxury properties stand as a testament to style and sophistication. Lori's insights delve into the resplendent rise in luxury living, where high-end homes are no longer mere residences but prized assets that combine comfort with substantial appreciation potential.
The Butler/Swayne Team shared their experience of a high demand for lavish properties across Atlanta and its surrounding suburbs. These timeless areas offer a range of architectural styles, from historic to transitional, catering to the refined tastes of discerning buyers. Their emphasis on harmonious design and sophistication, combined with comfort and elegance, underscores their dedication to delivering excellence in the luxury real estate market.
Bru Krebs highlighted that discerning buyers are seeking not only outstanding living spaces but elevated lifestyles. Luxury living in Atlanta is redefined by premium offerings like private rooftop terraces, state-of-the-art wellness centers, and resort-style pools. Krebs' perspective emphasizes the transformation of luxury living experiences into personalized sanctuaries of indulgence and tranquility.
Jessica Li drew attention to the heightened competition among buyers, leading to competitive bids and faster closing times. This competitive landscape underlines the allure of owning a lavish residence in Atlanta's prestigious neighborhoods. Buyers are eager to invest substantially to secure their dream homes, making a definitive statement of their success.
Lynda Hester brought to light the surge of interest in unique properties that seamlessly blend natural beauty, seclusion, and sophistication. For discerning homeowners, luxury extends beyond grandeur, encompassing the serenity of a sanctuary that complements their lifestyle.
Todd Kroupa notes a significant rise in the desire for luxurious properties within Atlanta's upscale neighborhoods. The combination of historical allure and contemporary conveniences has greatly appealed to affluent individuals in search of an exclusive lifestyle.
Chuck MacPhee focused on the impact of gentrification in revitalizing areas, making them highly desirable for luxury homebuyers. The allure of rejuvenated neighborhoods has driven demand and property values to new heights.
Kirsten Conover asserted that Atlanta's luxury real estate market is poised to flourish further. Investors and homebuyers can anticipate sustained appreciation in property values, positioning Atlanta as a prime location for long-term luxury real estate investments.
Lindsay Levin remarked that a cooling-off period in 2023 provides savvy buyers the opportunity to explore a range of luxury properties. With inventory levels shifting, buyers now have more leverage to negotiate and make confident decisions, creating an excellent opportunity for those seeking their dream luxury home.
Susan Feddersen highlighted the growing demand for homes that integrate avant-garde design, cutting-edge smart technology, and inventive indoor-outdoor living concepts. These homes represent a statement of contemporary and refined living.
As Atlanta's luxury real estate market thrives, the city's real estate industry remains committed to delivering unparalleled experiences to its esteemed clientele. By understanding the evolving preferences of luxury homebuyers, the industry ensures that Atlanta continues to shine as a premier destination for sophisticated living that blends modernity with southern charm.
About Lori Lane and Luxury Collection:
At the helm of Luxury Collection is Lori Lane, a trailblazer in luxury real estate, leading the division under Berkshire Hathaway HomeServices Georgia Properties. With Lori's visionary guidance, Luxury Collection has achieved unparalleled success, marking a 395% increase in market share—a testament to her expertise and dedication. The influence of Luxury Collection of BHHSGA extends beyond local boundaries, elevating luxury real estate standards across the metro Atlanta area and beyond.
Empowered by the global prestige of Berkshire Hathaway HomeServices Properties, a renowned industry leader, the impact of their luxury redefinition reverberates worldwide. The force behind this success lies in the innovative strategies and cutting-edge resources provided to agents of Luxury Collection. Access to advanced technology and a vast global-local network ensures a seamless fusion of resources, creating a cascade of leads and closings for Luxury Collection's listings that is truly unparalleled.
Contact Info:
Name: Lori Lane
Email: Send Email
Organization: Luxury Collection - Berkshire Hathaway HomeServices GA Properties, Luxury Redefined
Address: 100 Mansell Ct E Suite 115, Roswell, GA 30076
Phone: +1-404-671-4195
Website: https://luxuryredefined.com

Release ID: 89106031
Should any problems, inaccuracies, or doubts arise from the content contained within this press release, we kindly request that you inform us immediately by contacting error@releasecontact.com. Our dedicated team will promptly address your concerns within 8 hours, taking necessary steps to rectify identified issues or assist with the removal process. Providing accurate and dependable information is at the core of our commitment to our readers.