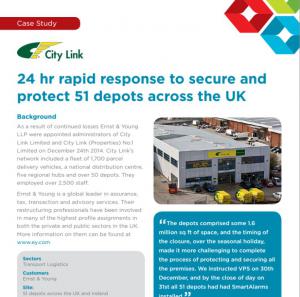 First page of VPS' case study on securing 51 of City Link's depots on new Year's Eve
VPS publish case study on the rapid response required to secure 51 City Link depots nationwide
LONDON, UNITED KINGDOM, July 9, 2015 /
EINPresswire.com
/ -- On New Year's Eve, 2014, administrators
Ernst and Young (EY)
called vacant property specialists
VPS
after a major parcel courier collapsed leaving 1.6 million square feet of space unprotected, 30,000 undelivered parcels and 51 depots around the UK.
VPS, secured and alarmed the City Link depots, stretching from Aberdeen to Southampton, within 24 hours of receiving the instruction from EY, and have issued today
a case study
that outlines the method and reasons for choosing the solution implemented.
News of the company's failure and of the thousands of parcels stored at the City Link depots made national TV, radio and newspaper headlines over the Christmas holiday period. The administrators acted quickly to request VPS' rapid response service to ensure the City Link premises were secure, using their innovative alarm systems specifically designed and developed for use in vacant properties.
Within 24 hours of the formal instruction, VPS had utilised its UK wide service centres to install and protect these depots.
"City Link had over 1.6 million square foot of depot space spread across all the major cities and towns in the UK and Northern Ireland. I'm very proud of our teams who worked fast and efficiently throughout New Year's Eve to complete the task." Says Damien Frost, Head of Insolvency at VPS. "There were thousands of parcels in storage kept secure and monitored until repatriated, with the company's remaining assets also protected."
VPS, the UK and European leaders in vacant property management, supply security solutions to the insolvency sector as well as commercial landlords, construction firms, local authorities and housing associations. Looking after over 50,000 properties at any one time, they use a range of specialist services from in-house designed alarm systems through to void property access control solutions such as SmartDoors, guards and live-in guardians. In the past VPS have won contracts to provide a range of security solutions for other multiple closures such as JJB, Peacocks, Dolcis, Oddbins and Land of Leather.
"It's great to be able to demonstrate our 'National Reach, Local Service' promise with such a genuinely UK-wide project. I think few companies, if any, could match this specialist vacant property service with the same speed, commitment and quality of standards." says Mr Frost, who concludes: "It's why VPS are the provider of choice in these challenging situations."
"24 hr rapid response to secure and protect 51 depots across the UK" case study is available for free from the Case Studies page on the VPS website,
www.vpspecialists.co.uk/downloads
--ENDS--
Graham Sievers
Perfectly Picked
+44 (0) 7722282946
email us here