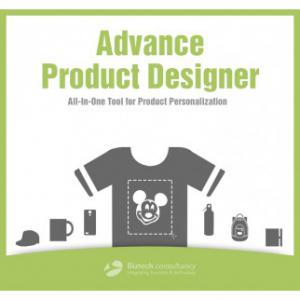 Biztech , the Ahmedabad based IT Solutions Company, recently released a completely restructured version of its best selling product Advance Product Designer.
AHMEDABAD, GUJARAT, INDIA, December 9, 2016 /
EINPresswire.com
/ -- Biztech IT Consultancy, the Ahmedabad based IT Solutions Company, recently released a completely restructured version of its best selling product
Advance Product Designer
, an online
product customization tool
for the web-to-print industry. The complete print ecommerce solution is developed for the printing vendors migrating and extending their printing industry online and for ecommerce platforms who wish to offer personalized products to their customers.
Talking about the product, Mr Maulik Shah, CEO of Biztech, said that "Keeping in view the increase in demand of personalized items and the popularity of the web-to-print business, we have developed this product to offer cost-effective solution to vendors looking for online selling of personalized products. The product is easy to use and is provided with pre-requisite training to aid traditional printers who are reluctant to launch their businesses online due to lack in technology and information."
Advance Product Designer is a complete solution based on HTML5. It can be used to personalize a wide array of products including accessories, apparels, stationery, gifts, cards, paper based goodies, skins & covers for laptops and other devices, etc. To explain in brief, it can personalize any product which has a printing space on it. The extension allows the customer to design their own products by using graphics or images of their own or from the templates already uploaded by the ecommerce store.
The product is suited well for entrepreneurs and printer owners who are new to this concept. The extension is easy to install and comes with a pre installed
product design tool
for the customer. There is an advanced admin management dashboard from where every aspect of the store can be managed easily by the owner of the store.
"With the latest restructuring", added Maulik "Advance Product Designer has become probably the most feature rich product design Magento extension. The best thing is, it has no dependency on flash and is fully responsive."
Keeping in view the increasing demand for such solutions in the market, and all the features and functionalities the products has to offer, Advance Product Designer can be forecasted to do well in the world of print ecommerce.
For more information about Advance Product Designer, please visit
https://store.biztechconsultancy.com/magento-product-designer.htm
About Biztech IT Consultancy
It has been a decade since Biztech is providing pioneering digital IT solutions to small and medium sized enterprises over the globe. Biztech is a trusted name in the market of extensions and plugins with a number of bestselling Magento extensions and exclusive apps for SugarCRM and SuiteCRM. The company is based in Ahmedabad, India, and moved to the products space 4 years ago. Within a few years, Biztech developed over a 100+ custom made products and more than 5000 product installations for E-commerce, CRM, ERP, and CMS technologies.
Maulik Shah
9879622024
email us here
Biztech IT Consultancy Pvt. Ltd.
Advance Product Designer Magento Extension
%img{:src=>track_image_url, :height=>1, :width=>1}