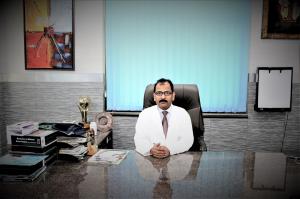 Dr. R. K. Mishra - Master in Minimal Access Surgery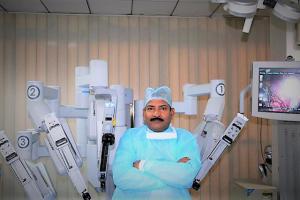 Dr. R. K. Mishra - Robotic Surgeon

World Laparoscopy Hospital
The Non-profit academic medical institute World Laparoscopy Hospital offers Laparoscopic and Robotic Surgery Training Programs for Surgeons and Gynecologists
Laparoscopic Surgeons are the artist with extraordinary skill in their hand.
— Dr R K Mishra
GURGAON, NCR DELHI, INDIA, October 24, 2016 /
EINPresswire.com
/ -- The Laparoscopic Surgery courses/training programs offered by the experts of the World Laparoscopy Hospital (WLH) are open to all willing doctors and the training program is aimed to transmit the basics to all, in addition to the latest theoretic and practical knowledge in minimal access surgery which will be carried in a structured manner. According to Dr. R.K. Mishra "World Laparoscopy Hospital is one of the most popular laparoscopic training institute in the World.
Following Laparoscopic Training Programs are Conducted by World Laparoscopy Hospital.
•
Laparoscopic Surgery Training
: It is a versatile program offered by the expert consultant in live operation theater. Usually, this Integrated Diploma and Fellowship training suits better for Beginners and Intermediates. The training program involves performance assessments, basic knowledge on Laparoscopic Endoscopic along with the Da Vinci Robotic surgical procedure. Candidates for this program should undergo 2 weeks of training program for learning Fellowship in Minimal Access Surgery and 4 weeks of training program to learn Diploma in Minimal Access Surgery.
•
Fellowship in Robotic Surgery
: This as a complete Hands On da Vinci robotic surgery training course where surgeons and gynecologists has opportunity to work or real 4 arm high definition surgical robot.
•
Fellowship and Diploma in Minimal Access Surgery
(FMAS + D.MAS): The fellowship and Diploma in Minimal Access Surgery (F.MAS) was specially designed Surgeons, Urologists and Gynecologists. The training program was specially organized in order to provide trainings with the ICRS (International College of Robotic Surgeons) experts who are well aware of advanced robotic surgeries. The training period would last for 4 weeks and suits better for Beginner and Intermediate. After successfully completing the training and passing the exam surgeons will be awarded fellowship and Diploma in Minimal Access Surgery.
Master in Minimal Access Surgery: Medical
Fellowship in Assisted Reproductive Technologies: The
GI Endoscopy Fellowship Course: The
• International Fellowship Course in Arthroscopic Surgery
The training offered in this program enhances the skills of beginner and intermediate person's skills in minimally invasive surgical procedure. Under this training course, candidates will undergo live surgery, workshops along with the group discussions on the topics related to Arthroscopic surgery. Entire course carried for 3 days and the course starts on 26th of February, June and October.
Laparoscopic Surgery Training Course for Operating Room Technician and Scrub Nurses: It
Course for Laparoscopic Trainer: Professor
World Laparoscopy Hospital is providing complete Hands On training where surgeons and gynecologists can learn all the practical tips of laparoscopic and da Vinci robotic surgery. A major development in state-of-the-art laparoscopic Surgery was initiated by the setting up of the eminent World Laparoscopy Hospital in year 2001 with the prime objective of imparting hands-on knowledge in laparoscopic procedures to potential surgeons and gynecologist from all over the World.
The founder of World Laparoscopy Hospital, Dr. R. K. Mishra says "The surgeons from the disciplines of General surgery, Gynecology, Urology and Pediatric surgery will stand to gain immensely from this Laparoscopic training program. Underneath the circumstances, a contact with a Structured Training course in an early stage of the career will go quite a distance in succeeding as experts in minimal access surgery."
All the courses which are offered by the World Laparoscopy Hospital are fully recognized by World Association of Laparoscopic Surgeons and International College of Robotic Surgeon. For more information about these training programs surgeons and gynecologists can log on to
https://www.laparoscopyhospital.com/
Dr. (Mrs) Vinita Arora
World Laparoscopy Hospital
9999677788
email us here
World's Most Popular Laparoscopic Training Institute