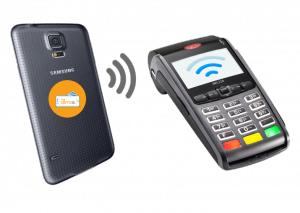 ComzaPay Payment on EMV terminal
The partners highlighted that one key for the success of contactless digital cash is the ability to address all social levels, including the unbanked.
GENEVA, GENEVA, SWITZERLAND, May 3, 2018 /
EINPresswire.com
/ -- In 2017, Samsung Semiconductor together with ecosystem partners ZeitControl, Smartlink, Ingenico and others introduced the Contactless Companion Platform to enable "digital cash for everyone". The partners highlighted that one key for the success of contactless digital cash is the ability to address all social levels poor to rich, young to old, including the unbanked.
According to the World Bank, cash still remains the most liked and used payment method around the globe. However, more and more shops, restaurants, transport authorities are beginning to insist on electronic payments to reduce risks and cost associated with cash handling. Additionally, many Governments worldwide want to bring down cash usage to reduce tax fraud and money laundering.
But existing electronic payments, especially contactless solutions, don't meet the "Beauty of Cash" yet and, more importantly, leave unbanked people behind.
Especially in sub-Saharan Africa, mobile money helped to change the landscape for financial inclusion. With CCP, existing African mobile money solutions can be taken to the next level:
* Unbanked and under-served can now benefit from system interoperability, increased security, and convenience. According to World Bank, there are still over 2 billion unbanked adults today.
* Payments without mobile coverage or even without mobile phone are now made possible
* In-shop payments, money remittance and transfer are taken to a new level
* Merchants now require only one PoS Terminal to handle multiple mobile money operators
* CCP offers flexible top up options, e.g. at the PoS, via Mobile, SMS, USSD, and at agents
* Even Government services can be distributed to CCP users via the versatile backend
The CCP platform already offers a broad range of services for developed and developing markets, with the potential to on-board new services driven by market demands over time.
CCP partners achieved a major step in positioning CCP beyond existing payment schemes to specifically support the demand for inclusion of so-called "Base of Pyramid" customers into the future digital environment.
Medium size, small and micro retailers are now confronted with the need to accept Electronic Payments to further financial inclusion by serving low-income populations in developing countries.
Here, CCP can play a significant enabling role and create new value for entire ecosystems.
In essence, CCP provides a new payment scheme for financial inclusion where traditional schemes are not suitable, creating new revenue opportunities at today's cash-based "Base of Pyramid". It has straight forward on-boarding to existing payment infrastructure with almost no change with both state-of-the-art chip security as used in credit cards and passports and End to End security with CCP security protocol and tokens.
CCP allows movement from cash to eCash with multiple user interfaces and allows and has a broad support for Android, iOS and SMS phones with flexible product availability via existing distribution channels today.
More information :
*
https://news.samsung.com/global/samsung-smartlink-and-ingenico-introduce-the-contactless-companion-platform-to-enable-digital-cash-for-everyone
*
https://contactlessintelligence.com/2018/04/16/comzafrica-and-island-pay-on-ccp/
by Steve Atkins,
https://contactlessintelligence.com
Sebastien Piolat
Smartlink SA
+41 22 310 59 10
email us here
CCP for the unbanked