Will the U.S. Become the Global Hub for Crypto and Blockchain?
November 01, 2021 at 12:55 PM EDT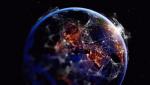 The introduction of a bitcoin futures ETF in the U.S. was a telltale sign that the world's top economy could be the global hub for cryptocurrencies and blockchain if it wanted to be. While other countries were already early adopters in the digital currency space, the U.S. could prove that...