The leading Turkish crypto exchange is out to revolutionize the industry after launching Bitlo Crypto Fund (BCF), which aims to invest in promising blockchain companies, blockchain protocols, and fintech startups in the country.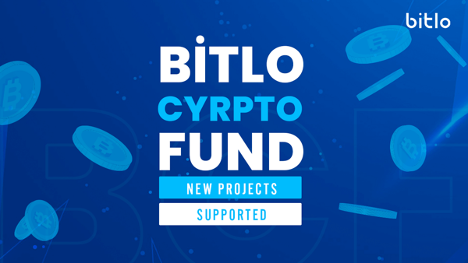 Turkey - February 26, 2022 —
Bitlo, an industry leader that has served as Turkey's oldest and most reliable cryptocurrency exchange since 2017, has unveiled Bitlo Crypto Fund (BCF), an investment fund for promising blockchain projects.
Launched in August last year, the Bitlo Crypto Fund (BCF) seeks to invest in promising blockchain companies, blockchain protocols, and fintech startups in Turkey as a part of Bitlo's vision of becoming an infrastructure provider in the fintech sector.
"Blockchain, for instance, is one of the hottest trends in business, finance, and several other industries. Its dominance in the mainstream in the wake of the rise in popularity of crypto funds paved the way for new investment vehicles and opportunities. That's where the Bitlo Crypto Fund comes into the picture," a company representative said.
The Bitlo Crypto Fund will support up to 10 projects during the period covering 2021-2022. In fact, the platform announced that it is already supporting two projects at the moment.
At the initial stage, Bitlo Crypto Fund expresses commitment to investing between 250,000 TRY and 1,000,000 TRY in a project, depending on its needs. Subsequent investments are made at a maximum of four times the previous one, and the investment amount does not exceed 5,000,000 TRY.
"Our vision at Bitlo is to become a leading infrastructure provider in financial technologies, offering products and services on crypto funds and blockchain for the benefit of our users," the representative stressed. Bitlo, the leading Turkish crypto exchanges platform, aims to support talented entrepreneurs within Bitlo and in the crypto sector. It further aims to contribute to the realization of value-creating products and services.
Bitlo Crypto Fund is open to any project that produces value, benefits, or solves a problem. Those interested may apply to the Bitlo Crypto Fund even for the projects in the early development stages. However, it underlines that it is not interested in payment instruments or speculative projects. In addition, local crypto projects and foreign ones can apply to Bitlo Crypto Fund.
"As a team at Bitlo, we express our commitment to step up efforts and resources for the sustainability of our services in the crypto market, while we are giving a new impulse to entrepreneurs in this market with our new investments such as BCF," the representative assured.
Those interested in seizing the opportunity of applying to the Bitlo Crypto Fund may start their journey by filling out an online application form. The Bitlo Crypto Fund application form can be accessed via https://www.bitlo.com/bitlo-crypto-fund.
Bitlo provides 24/7 phone and live support on the site to provide its users with an excellent customer experience. They may contact Bitlo's team of professionals and share their opinions and suggestions.
Those who wish to learn more about Bitlo and the game-changing Bitlo Crypto Fund (BCF) may visit the website for more information.
Contact Info:
Name: Tolga Sonisik
Email: Send Email
Organization: Bitlo Teknoloji A.Ş.
Address: Esentepe Mahallesi Buyukdere Caddesi Ferko No: 175/7 Levent, Sisli, Istanbul, Turkey
Website: https://www.bitlo.com/
Release ID: 89065804