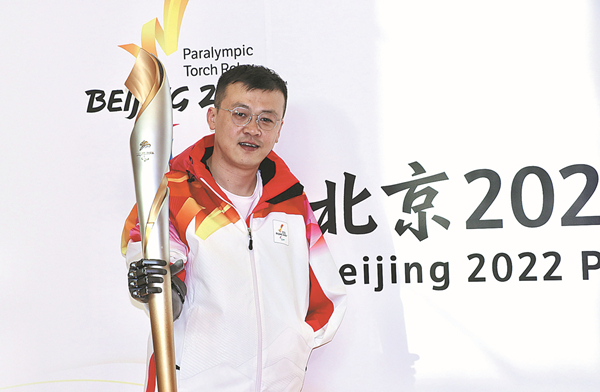 Thumb bent and the other four fingers closed, the prosthetic hand of Jia Hongguang firmly gripped the Paralympic torch and handed it to the next torchbearer.
Then, in another smooth motion, Jia shook hands with a spectator, who had congratulated him for completing his leg of the torch relay at Beijing's world-famous Temple of Heaven Park on Wednesday. The scene encapsulated many elements that make the Winter Paralympics so special.
Jia's prosthetic hand uses state-of-the-art technology, processing the nerve signals of his muscles to enable flexible and finely controlled movements for picking up and holding objects.
"This is the first time that I have shaken hands happily with people since I lost a third of my arms at the age of six," Jia, a Paralympic champion in the swimming pool, enthused. "It is simply magic."
"To use such a hand for the torch relay is just incredible," he added. "The advancement of science and technology has brought people with disabilities many benefits."
At the Tokyo 2020 Paralympic Games, Jia won two gold, one silver and one bronze medal. He also set a new world record in the men's 100m backstroke S6 event.
The "magic" hand that Jia uses was manufactured by BrainCo, a company based in the Yuhang district of Hangzhou, the capital city of Zhejiang province.
In fact, it took the company only one day to produce a customized prosthetic hand for Jia, and only two days for Jia to adapt to it after some basic training.
"The sensors in the hand can automatically adjust strength according to the smoothness and hardness of the surface of the object the hand holds," a BrainCo technician explained.
Weighing about 530 grams, the hand is equipped with 10 robotic joints.
The five fingers can move independently while coordinating their movements. It enables the user to lift items as heavy as 10 kilograms and perform gestures such as high-fives and handshakes.
BrainCo says its model is about 80 percent cheaper than traditional prosthetic hands.
"Hundreds of people across the country have already been using it to type, play the piano, operate machinery, do housework and farmwork, among other things," said Huang Qi, director of the prosthetics division at BrainCo.
"It can help people with disabilities live a normal life."
Media Contact
Company Name: The Information Office of Hangzhou Municipal Government
Contact Person: Cai Jingwen
Email: Send Email
Phone: 0510-68559077
Country: China
Website: http://www.ehangzhou.gov.cn/