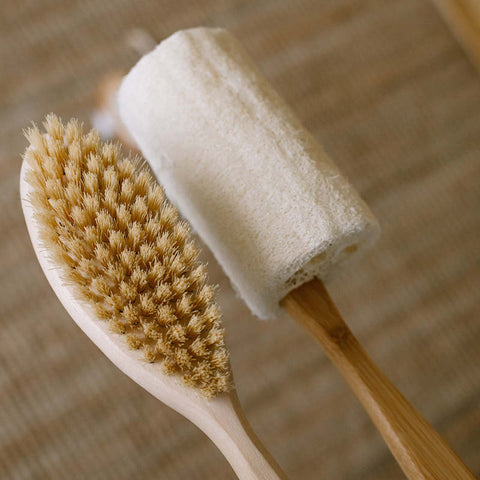 A loofah shower sponge is an excellent way to care for your skin. Made from the dried gourd of a loofah plant, loofah sponges are gentle on skin as well as on the environment.
"GreenLiving has announced a new set of shower brushes products. These products are also made of 100% natural and recyclable material, which match the company's mission."
GreenLiving has launched Shower brushes collection that consists of various types of brushes for bathroom and shower purposes. As a company that has a mission to save the Earth from environmental danger, all products in this new collection also follow the mission. They are all made of environmentally friendlier material that is also recyclable, such as wood and bamboo. Even though it is made of organic material, the design available for this new set of bath brush collections is also many. Thus, the customer will have more options they can pick for their shower needs.
The body brush collection is only one of many product varieties that GreenLiving has. This store mainly provides various home appliances and daily needs tools. All of them are also made of natural materials. This company even gives the customer 100% natural and eco-friendly products for it. Even though it uses the environmentally friendlier concept, the store provides a service similar to another online store. It is including various features and bonuses that customers can get, such as free shipping, 24/7 customer service, 30-days money-back guarantee, and 100% secure payment. So, customers can shop for a dry body brush or other products safely.
According to the representative of GreenLiving, "Our mission when we start this business is creating a way for people to join the movement to save our Earth from global warming or other dangers. Therefore, we decide to use the easy-to-find tool that people use daily, like a  back scrubber, fruit baskets, or even a bathtub tray for laptops, to help them join this movement. It might sound and seems like a simple thing. But, we believe that this small change will lead to a better change in the future. Of course, we also feel confident with our product quality that is comparable with the standard commercial product in the same category." Please visit GreenLiving's official website to find more about the product and service.
About GreenLiving
GreenLiving is a China-based company that uses the green concept as the business core. This store sells various products, which are made of 100% natural material, eco-friendly products. With the mission to make an impact for good change for Earth, this store keeps growing its business to reach more customers in the future.
Media Contact
Company Name: GreenLivingSHK
Contact Person: Rebecca Tang
Email: Send Email
Phone: +86-773-5680356
Address:Suite C505 Innovation Building, Information Industry Park, Chaoyang road
City: Guilin
State: GuangXi
Country: China
Website: https://greenlivinglife.com