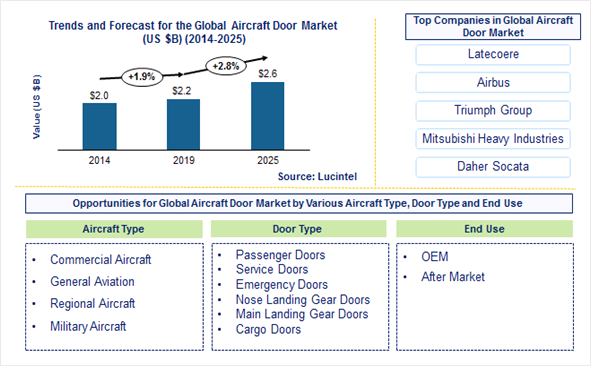 Trends and Forecast for the Global Aircraft Door Market
Trends, opportunities and forecast in aircraft door market to 2025 by aircraft type (commercial aircraft, general aviation, regional aircraft, and military aircraft), by door type (passenger, service, emergency, cargo, nose landing gear, main landing gear), by end use (OEM and Aftermarket), by material (Composite and Aluminum Alloys), and by region (North America, Europe, Asia Pacific, and the Rest of the World)
Opportunities in the aircraft door market have evolved through a number of stages. Lucintel has found the future of this market to be promising; the aircraft door market is expected to reach $2.6 billion by 2025 with a CAGR of 2.8%. In this market, commercial aircraft is the largest segment by aircraft type, whereas passenger door is largest by door type. The introduction of automatic electric doors and increase in penetration of composites for light weight doors provides strategic growth path in this market.
Airbus Helicopter, Latecoere, Triumph Group, Mitsubishi Heavy Industries, Elbit Systems, Hindustan Aeronautics Limited, SAAB Aerostructures, Daher Socata, and others are some of the companies profiled in this report.
Some of the features of this report:
Market size estimates:

 Aircraft door market size estimation in terms of value ($M) shipment.

Trend and forecast analysis:

 Market trend (2014-2019) and forecast (2020-2025) by segments and region.

Segmentation analysis: 

Aircraft door market size by various applications such as aircraft type, door type, end use in terms of value and volume shipment.

Regional analysis:

 Aircraft door market breakdown by North America, Europe, Asia Pacific, and the Rest of the World.

Growth opportunities:

 Analysis on growth opportunities in different applications and regions of aircraft door in the aircraft door market.

Strategic analysis:

 This includes M&A, new product development, and competitive landscape of aircraft door in the aircraft door market.
Analysis of competitive intensity of the industry based on Porter's Five Forces model.
Download Brochure of this report by clicking on https://www.lucintel.com/aircraft-door-market.aspx
This exclusive report from Lucintel will enable you to make confident business decisions in this globally competitive marketplace. For a detailed table of contents, contact Lucintel at +1-972-636-5056 or click on this link helpdesk@lucintel.com
About Lucintel
Lucintel, the premier global management consulting and market research firm, creates winning strategies for growth. It offers market assessments, competitive analysis, opportunity analysis, growth consulting, M&A, and due diligence services to executives and key decision-makers in a variety of industries. For further information, visit www.lucintel.com.
Media Contact
Company Name: Lucintel
Contact Person: Brandon Fitzgerald
Email: Send Email
Phone: 303.775.0751
Address:8951 Cypress Waters Blvd., Suite 160
City: Dallas
State: TEXAS
Country: United States
Website: https://www.lucintel.com/