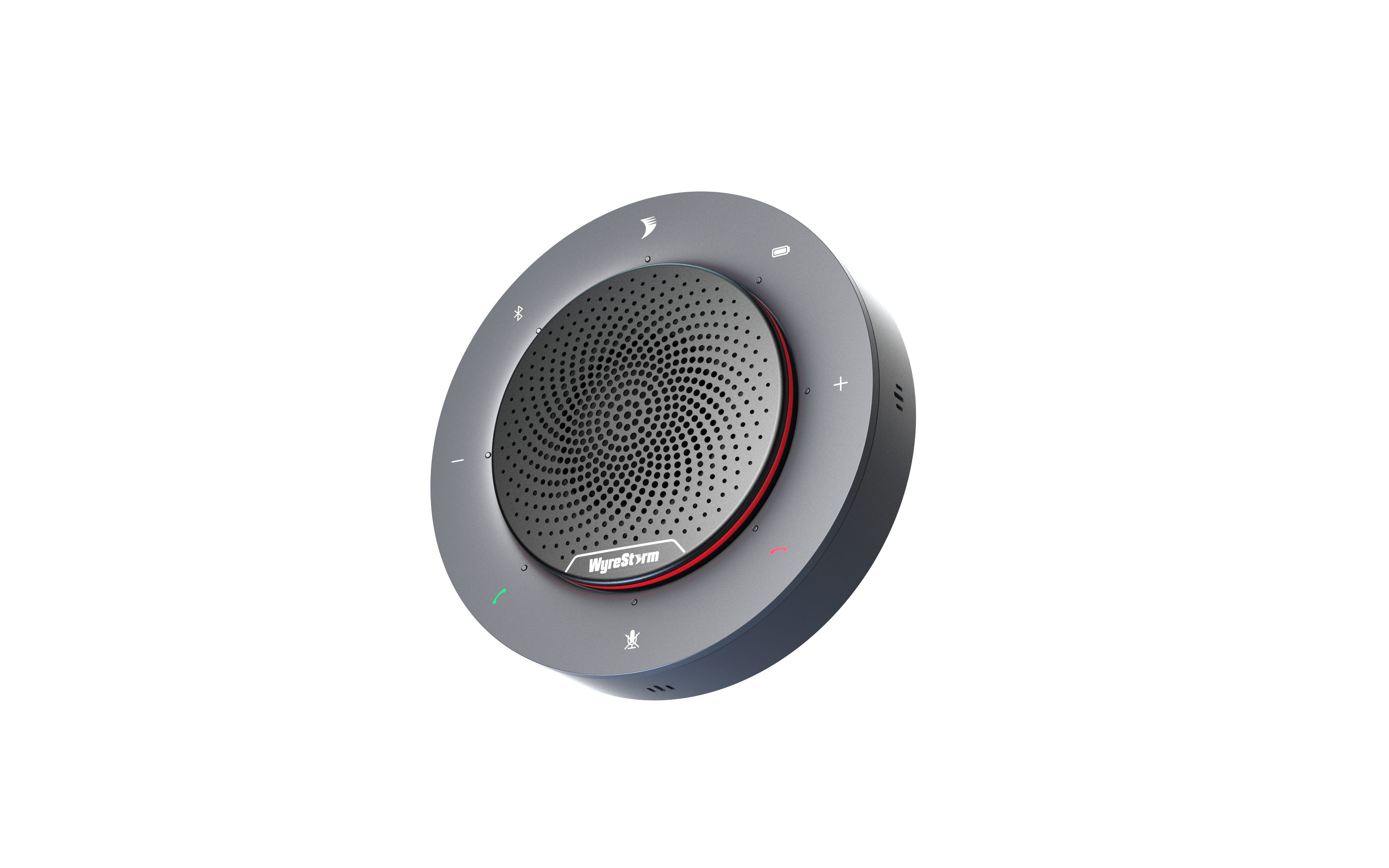 Nowadays, video conferencing systems gain much popularity as the number of people working from home continues to increase. WyreStorm HALO 60 Bluetooth conference speakerphone can work with all popular online conferencing platforms. Users can hold an online meeting and talk hand-free wherever they are.
HALO 60 Bluetooth conference speakerphone can pick up voice from every angle of a small meeting room and ensure everyone hears the far end clearly. With its superior audio quality, plug-n-play feature and portable design, users can hold an online meeting anywhere they want within a matter of seconds. It is an ideal choice for corporate meeting room and home office.
WyreStorm, a leading innovator in AV distribution and control over IP, HDBaseT and HDMI, recently announced the addition of HALO 60 professional Bluetooth conference speakerphone to the company's office product portfolio. It is engineered to provide a portable, sound-improving and hand-free solution for both home office and corporate meeting room of up to 6 people. Users can hold an online meeting and talk hand-free wherever they are.
Enjoy Superior Audio Quality
"When it comes to speakerphone, sound quality is the most important factor to judge whether it is good or not. We believe HALO 60 can stand out from its competitors on both audio input and output," commented Mandy Xiong, Director of WyreStorm Office product line.
HALO 60 full-duplex speakerphone is composed of four noise-cancelling microphones and a premium speaker. The microphones are arranged in a 360° array for omni-directional voice pickup. With the advanced DSP algorithm, it supports acoustic echo cancellation, active background noise reduction and voice enhancement. Even when users work in a noisy environment, their voice can be optimized in real-time so that the far-end attendees can hear everything clearly.
Besides, HALO 60 Bluetooth speakerphone features a high-performance 3W speaker, which can cover any space of a 30㎡ meeting room, so users won't miss a word. Furthermore, built with the AGC (automatic gain control) technology, it can balance out voice volume in real-time to ensure no one sounds too close or too far away from it.
Plug & Play, Universal Compatibility, Simple Touch Control
"We have released three models of speakerphone so far: HALO 30, HALO 60 and HALO 90. HALO 60 supports both wired and Bluetooth connection, and HALO 30 only supports wired connection. On the basis of HALO 30, HALO 90 integrates speakerphone and USB-C docking station into one device, offering an all-in-one solution," added Mandy.
HALO 60 speakerphone is plug-n-play and compatible with various operating systems, including Mac OS, Windows 7/8/10, Android and iOS. It can also work with all popular online conferencing platforms, like Zoom, Skype, WebEx, etc. Besides, HALO 60 is extremely easy to control and use. It is designed with intuitive physical control buttons and smart LED status indicators.
"In addition to HALO series conference speakerphones, we also have other products specially designed for video conferencing applications like FOCUS series USB webcam. And we will continue to enrich this office product line by developing more innovative and high-quality products," concluded Mandy.
About WyreStorm
WyreStorm is a vertically integrated prime manufacturer of award-winning AV distribution and control solutions for commercial Pro AV, residential CI, and retail markets. When it comes to successful AV signal management and true customer satisfaction, WyreStorm's unique multiplatform product offering comprises of HDBaseT, HDMI, Fiber, and the three AV over IP technologies of our NetworkHD line for the creation of both single platform and hybrid solutions. Offering unrivalled value and compatibility with the latest 4K standards, WyreStorm is the only manufacturer you need. With seamless integration and perfectly tailored products that enables the integrator to provide the right solution no matter the application, WyreStorm makes every AV project a success.
Learn more by visiting https://www.wyrestorm.com/
Media Contact
Company Name: WyreStorm Technologies LLC
Contact Person: Sissi Pan
Email: Send Email
Phone: +1 518-289-1293
Address:Tech Valley Flex Park, 23 Wood Road, Suite 600
City: Round Lake
State: NY 12151
Country: United States
Website: https://www.wyrestorm.com/