10 international Alpha Doctors write Alpha Dentistry, Digital Orthodontics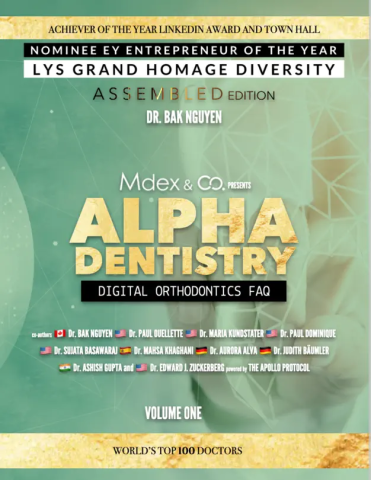 For the first time in history, ten intellectual giants in the world of dentistry combine resources to write the first crowdsourcing book, combining the question of the crowd, dentists from 3 different fields, five different countries and three different generations. 
The book is titled "Alpha Dentistry vol. 1 - Digital Orthodontics (Assembled Edition). Led by Alpha Dentist Dr. Bak Nguyen, the book democratizes the science of dentistry, sharing valuable insights from and for patients about dentistry. The book is based on frequently asked questions (FAQ) by patients on the matter. 
In addition to Dr. Nguyen, other writers include Dr. Paul Ouellette (USA), Dr. Maria Kunstadter (USA),  Dr. Paul Dominique (USA), Dr. Edward J. Zuckerberg (USA), Dr. Mahsa Khaghani (Spain), Dr. Sujata Basawaraj (USA), Dr. Aurora Alva (Germany), Dr. Judith Bäumler (Germany) and Dr. Ashish Gupta (India). Fully equipped with the integrated knowledge of 10 Alpha Doctors across the world, Alpha Dentistry is definitely a must-read that will shape the mindset of readers and cause a positive dramatic shift in the world of dentistry on how science and medicine should be delivered. To the patients, it is a wealth of knowledge; it's like having a personal conversation with each of these doctors to ask questions.
"10 International Alpha Doctors from USA, Spain, Germany, India, and Canada are joining forces to make the knowledge complete and universal. ALPHA DENTISTRY is the first effort to create universal knowledge in the field of dentistry. This is the orthodontics volume. This is the most ambitious book project in the History of Dentistry," said Dr. Bak Nguyen.
Even it the book is available on Amazon, Apple Books and all the conventional channels, there will be an electronic version available for free for everyone to download and consult. This has been done with the idea of sharing and democratization in mind and at heart. Moreover, an International version in which the authors will be responding to the FAQ in their native tongue is now in the correction process and will be available soon. 
"ALPHA DENTISTRY is in response to the COVID crisis, the shortage of staff crisis, and the effort to unify dentistry to the Information Age, as discussed in RELEVANCY and COVIDCONOMICS, THE DENTAL INDUSTRY."
After this one, Volume 2, following the same recipe on Dental implants, is next. For more information, please consult: https://baknguyen.com/faq.
Media Contact
Company Name: Dr Bak Nguyen
Contact Person: Tranie Vo
Email: Send Email
Address:1002 Sherbrooke west R18
City: Montreal
State: QC H3A-3L6
Country: Canada
Website: https://baknguyen.com/