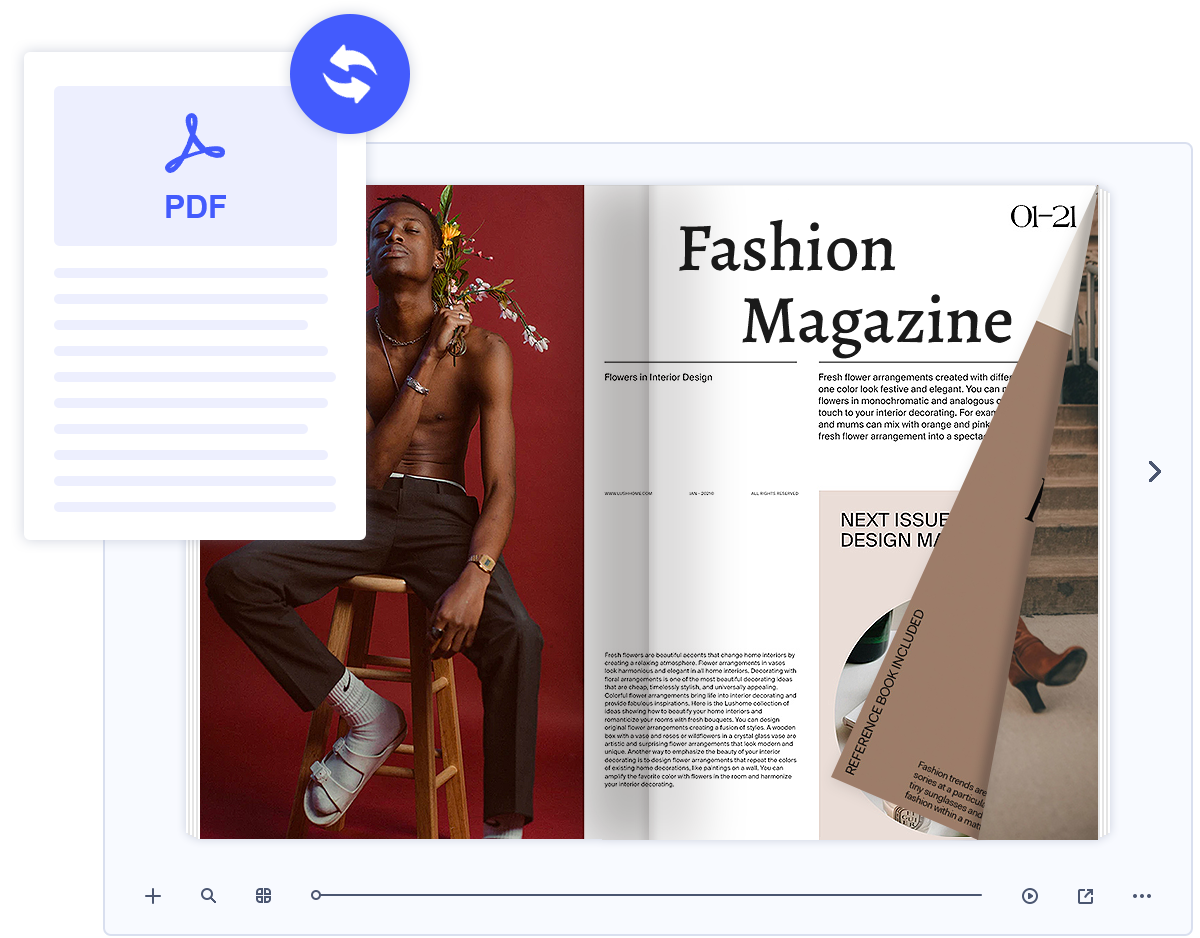 Easily convert static files into interactive digital flipbook on FlipHTML5.
In today's market, content must be outstanding to achieve desired results. FlipHTML5's interactive content platform lets content creators produce content that converts.
Content creators of today know that in a market flooded with content all vying for audiences' attention, what they produce must stand out to be noticed. One good way to increase audience engagement is to make content interactive so that viewers can interact with it instead of just consuming it. That way, they're more likely to heed the call to action embedded in the content. FlipHTML5 is a leading interactive content platform for creating and publishing content that will increase engagement, reduce bounce rates, and increase conversion.
"We can confidently say that FlipHTML5 is a top interactive content platform," says Winston Zhang, CEO of FlipHTML5.
FlipHTML5 produces vibrant, dynamic flipbooks from static file formats. Users can upload their PDF, PowerPoint, Word, JPG, and PNG files to the interactive content platform and they will be automatically converted to eye-catching flipbooks with advanced features. There are various templates available for the layout of the flipbook as well as beautiful themes and backgrounds to enhance the appearance. The pages flip like those of a printed book with just a tap. Users can add a clickable table of contents, thumbnails, and a search option for easier navigation.
Videos and animation are two of the most widely consumed content formats nowadays. This interactive content platform allows users to take full advantage of these. The online multimedia editor lets users embed images, audio, videos, GIFs, and animations on the pages of their flipbooks. Hyperlinks to their website and sales pages make it easier for viewers to make purchases. They can also increase awareness of their brand by including clickable logos and URLs on each page of flipbooks.
The interactive content platform from FlipHTML5 facilitates the publishing of content as well. Completed flipbooks can be exported for offline distribution or uploaded to the FlipHTML5 cloud for free storage and web hosting. Readers can subscribe to their favorite content creators and be notified of new and updated content. Each flipbook has a URL for simple sharing via email and social media. There's also an embed code for embedding content on websites and blogs.
Search engines are widely used to locate content. FlipHTML5's interactive content platform offers several SEO options to make content easier to find. Additionally, it has Google Analytics integrated to provide real-time statistics on flipbooks' performance.
Learn more about the interactive content platform on FlipHTML5.
About FlipHTML5

FlipHTML5 is an essential tool in content creators' toolbelts for producing interactive content. 
Media Contact
Company Name: FlipHTML5 Software Co., Ltd.
Contact Person: Lailie Tan
Email: Send Email
Phone: 86 020-61972665
Address:Room 1003, 10/F, Tower 1, Lippo Centre, 89 Queensway, Admiralty
City: HongKong
Country: HongKong
Website: https://fliphtml5.com/