Online Rehab provider is leading the way in expertise and price for addiction treatment
Self Recovery has officially won the prestigious Best Online Rehab 2022 award from World Best Rehab Magazine. The online rehab provider was founded by Daniel Hochman M.D., with the sole aim of helping individuals end their addictions.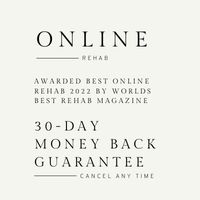 Self Recovery's ability to treat addiction and co-occurring problems is aided by the expertise offered by Hochman. In addition, the organization's price per month is a fraction of what is offered by other teletherapy providers.  
Hochman is a leader in the addiction and mental health field as a Psychiatrist and Psychotherapist. He has worked with thousands of patients suffering from addiction and co-occurring disorders during a long career. 
Self Recovery's online treatment program is backed by evidence-based research. The treatment delivers the same therapy experience clients receive at in-patient rehabs. 
Worlds Best Rehab Magazine identified multiple areas in which Self Recovery excels when giving out the Best Online Rehab 2022 award. Self Recovery costs just $99 per month for treatment whereas the  price of most face-to-face therapy can cost clients thousands of dollars for a month's program. 
The private online platform provides clients with a self-paced program. Clients spend just one hour each weekday studying the program, and the entire Self Recovery treatment plan takes three months to complete. Hochman stresses that the treatment program isn't a simple three-month online treatment tool that can be breezed through.  
The program is intensive and uses the same therapy methodologies as in-person rehab centers. Self Recovery does not use a 12-step program to treat clients. Hochman developed the program using science and psychological studies and bases everything on evidence-based research. Clients can use the treatment program alongside a 12-step program to further the healing process, however.  
"The program isn't something a client can simply breeze through in their spare time," Hochman said. "The program is in-depth and will get clients thinking about their lives, addictions, and mental health. Clients will learn new tools and develop skills from the program to end their addictions." 
The benefits of Self Recovery's program are plentiful. Clients can complete the program online in their own time. Each program module is prerecorded, allowing clients to complete sessions at their own pace. The program's low price makes it far more accessible than other forms of rehab and teletherapy. In addition, the online aspect of the program provides privacy. Clients are less likely to feel embarrassed or ashamed about attending a rehab program.  
Worlds Best Rehab also noted Self Recovery's worldwide availability. Clients all over the globe can access Hochman's incredible online program. Self Recovery provides therapy without borders, enabling more people to access the online program.  
"It is an honor for Self Recovery to be Worlds Best Rehab's Best Online Rehab 2022," Hochman explained. "The program is helping people end addiction, take control of their lives, and achieve their best selves. I'm proud to help people heal."
Media Contact
Company Name: Worlds Best Rehab LLC
Contact Person: Zara Smith, Press Manager
Email: Send Email
Phone: +1 646 905 0908
Country: United States
Website: https://www.worldsbest.rehab