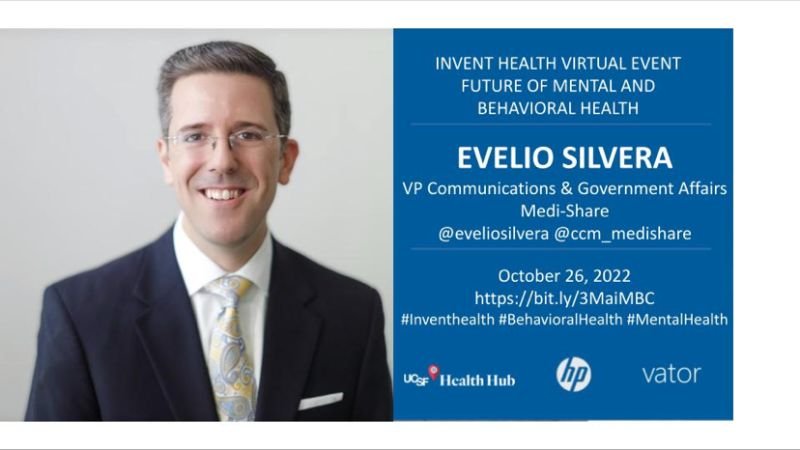 Invent Health held an intimate event, where the audience and select speakers interact around one topic. Topics like "Mental Health," "Reinventing the doctor's role," "Future of clinics," and "Lifestyle", are discussed by influencers from various backgrounds to provide a 360-degree perspective. The goal was to create connections amongst guests and to have a solid discussion and/or debate around one area of healthcare that's ripe for innovation.  
As discussed at this virtual mental health event, health startups are creating solutions and treatment modalities to help those across the spectrum from mindfulness-based therapies, cognitive behavioral and psychodynamic therapies to digital therapeutics.  
Evelio Silvera, VP of Communications and Government Affairs at Medi-Share spoke as a panelist to address these mental health issues, as well as the innovative approach of health care sharing and how Medi-Share walks alongside members through their health journeys. 
"Opportunities to collaborate on important issues such as mental and behavioral health like this event, undoubtedly lead to new and innovative solutions," explained Mr. Silvera.  
About Christian Care Ministry/Medi-Share 
Christian Care Ministry (CCM), a not-for-profit 501(c)(3) organization, based in Melbourne, FL, operates the Medi-Share program, a Christian healthcare sharing organization that provides an affordable alternative to health insurance for faith-based consumers. Entering its 30th year of sharing, Medi-Share, serves nearly 400,000 members across America and has earned accreditation from the Independent Healthcare Sharing Accreditation Board. For more information about Christian Care Ministry, visit: https://mychristiancare.org/press.