Christian Care Ministry/Medi-Share, the nation's leading health care sharing ministry completed its 5th Annual Day of Sharing despite two hurricanes.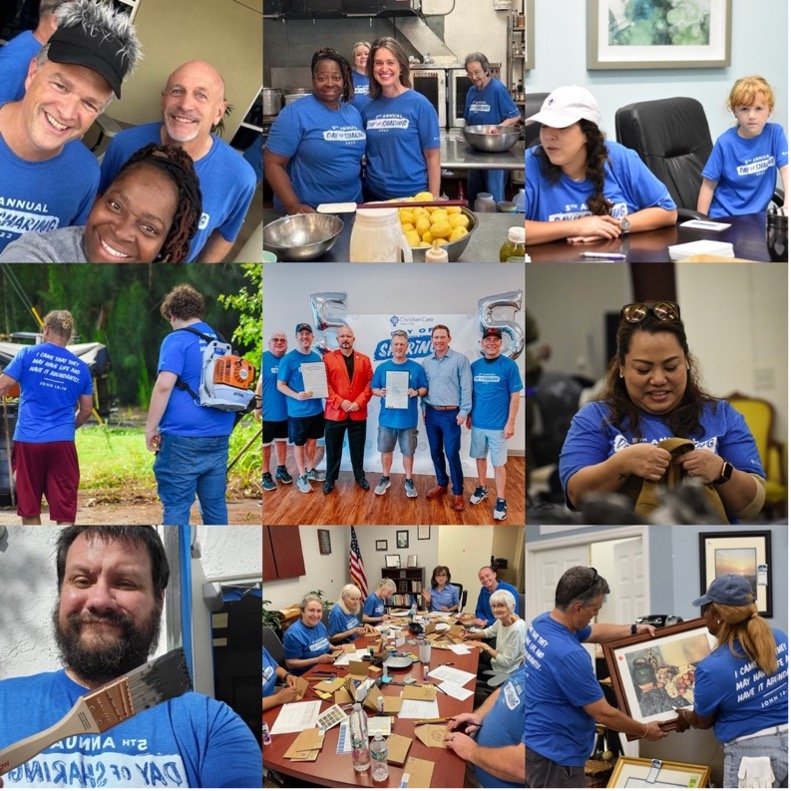 Christian Care Ministry– The nation's leading health care sharing ministry's employees partnered with local non-profits to serve their community. Christian Care Ministry donated $15,000 dollars and employees volunteered 300 hours of their own time. After re-scheduling from Hurricane Ian, the event took place just days after Hurricane Nicole. Employees were able to help non-profits with yard clean up, painting, loading cargo for hurricane relief, writing letters of encouragement, and office organization.
Christian Care Ministry's employees brought their families and volunteered their time on a Saturday to give back to their communities. The ministry held a kickoff event at their Melbourne home office where employees and guests heard proclamations for the National Day of Sharing from Mayor Paul Alfrey and Joshua McWilliams from Senator Debbie Mayfield's office, FL Senate District 12.
Christian Care Ministry/Medi-Share's CEO Scott Reddig shares, "It's a blessing to witness hundreds of employees set aside a Saturday morning to meet the needs of our local service organizations, like Village Thrift where I served with a team organizing donations. Sales from Village Thrift support Love, Inc. Brevard, which is an organization committed to mobilizing churches to transform lives and communities in the name of Christ. Through these local partnerships, we can further Christian Care Ministry's vision of 'Transforming society through the Biblical model of sharing,' and ultimately, impact the Kingdom for Christ."
For this year's Day of Sharing, more than 100 volunteers served the following non-profits:
Bridges for Peace
Community Gospel Truth Church
Canaveral Port Ministry
Genesis House
CITA
Still Waters of Brevard
Love INC.
Wings of Grace
RFM Christian Academy
Dove Bible Club, Brevard Veterans Memorial Center
Central Brevard Sharing Center
Brevard Veterans Memorial Center

"Christian Care Ministry employees partnered with us to be a conduit of the Lord's blessings from numerous donors to numerous people in need." Dwight Bell, Wings of Grace President
Employees serve the local community year-round as part of the ministry's formalized volunteer program. They receive up to three days off each year for volunteer service and many use this time to serve local churches, ministries, and other community organizations. Last year alone, employees donated more than 4,000 hours in their local communities.
For more information visit www.DayofSharing.com.
About Christian Care Ministry/Medi-Share
Christian Care Ministry (CCM), a not-for-profit 501(c)(3) organization, based in Melbourne, FL, operates the Medi-Share program, a Christian healthcare sharing organization that provides an affordable alternative to health insurance for faith-based consumers. Entering its 30th year of sharing, Medi-Share, serves nearly 400,000 members across America and has earned accreditation from the Independent Healthcare Sharing Accreditation Board.
For more information about Christian Care Ministry, visit: https://mychristiancare.org/press.    
Media Contact
Company Name: Christian Care Ministry/Medi-Share
Contact Person: Debbie Ryan
Email: Send Email
Phone: (800) 264-2562 x2233
Country: United States
Website: https://www.medishare.com