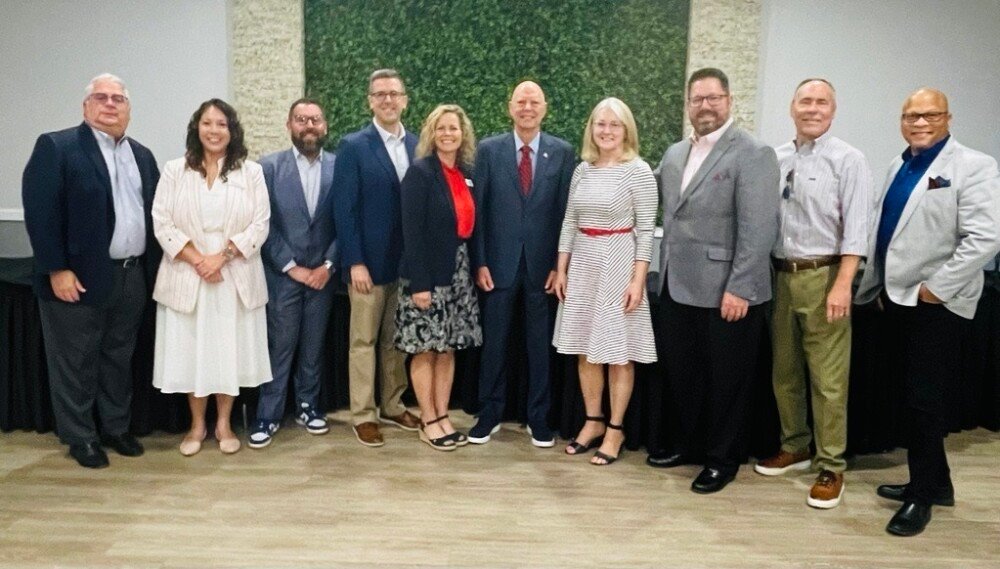 MELBOURNE, Fla. — On May 4th, Christian Care Ministry/Medi-Share, the nation's leading health care sharing ministry, joined local leaders for the National Day of Prayer to pray for important issues. For the past several years, Christian Care Ministry has had the privilege to sponsor and contribute to the Space Coast Prayer Breakfast, which includes Government officials, pastors, and Christian leaders from across Brevard County. This year's event included Congressman Bill Posey, who began this yearly gathering of prayer.  
Designated by the United States Congress in 1952, the National Day of Prayer is an annual day of observance on the first Thursday of May when people are encouraged to "turn to God in prayer and meditation." This year's theme was "Pray Fervently in Righteousness and Avail Much" based on James 5:16b. 
Congressman Posey opened his statement by sharing how valuable prayer has been during his time of service. His leadership has brought together the community each year to pray with one heart.    
Christian Care Ministry's CEO Brandon Harvath shared some remarks at the event: "Christian Care Ministry (CCM) is a community of believers committed to a community wellness experience based on faith, prayer, and personal responsibility," said Harvath. "As a Christian health care sharing ministry, we know how important and effective prayer is for our members, who depend on the prayers of our staff and each other as they walk through a medical journey. We also pray for providers who call in requesting information about our members and our program.    
"CCM's commitment to prayer carries over to outside our organization. On September 11, 2021, Christian Care Ministry/Medi-Share launched a new prayer initiative for elected officials and their legislative staff called Project K.E.E.P., which stands for Keeping Elected-officials Encouraged through Prayer.    
Each day our Medi-Share members and CCM employees pray for specific elected officials by name. Since its inception, more than 2,100 individuals have been prayed for through Project K.E.E.P. 
After the morning's prayer time, Christian Care Ministry continued its focus of prayer with an event for its employees. The Eau Gallie JROTC color guard opened up the service followed by prayer stations. Topics of prayer included Family, Education, Business, Church, Government, Arts, Media & Entertainment. Christian Care Ministry's service concluded with corporate prayer led by Harvath.   
  ###    
Pictured Left to Right: Mark Joos, Chief Financial Officer of CCM; Lindsey Swindle, Director of Govt Affairs; Jon Yapo, Director of Outreach; Evelio Silvera, VP of Communications & Govt Affairs; Debbie Ryan, Public Relations Specialist; Congressman Bill Posey, House District 8th; Cindi Killen, CCM Chaplain; Brandon Harvath, Chief Executive Officer; Tony Webster, Chief People Officer; Jerry Lawrence, Spiritual Director.   
About Christian Care Ministry/Medi-Share 
Christian Care Ministry (CCM), a not-for-profit 501(c)(3) organization, based in Melbourne, FL, operates the Medi-Share program, a Christian health care sharing organization that provides an affordable alternative to health insurance for faith-based consumers. Entering its 30th year of sharing, Medi-Share, serves nearly 400,000 members across America and has earned accreditation from the Independent Healthcare Sharing Accreditation Board. For more information about Christian Care Ministry, visit: https://mychristiancare.org/press.    
About Space Coast Prayer Breakfast 
For more than a decade, the Space Coast Prayer Breakfast is a county-wide (Brevard County, Fla.) outreach to awaken the hearts of the Space Coast to turn their focus to the Lord…in their lives, their families, at work, and in their communities.