Interactive fitness platform operator Peloton Interactive (PTON) is dealing with cooling demand and product recalls. Would it be wise to invest in the stock now? Let's look at its key financial metrics…
Fitness platform operator Peloton Interactive, Inc. (PTON) offers connected fitness products. Demand for its services experienced a major spike during the pandemic, with people spending most time indoors. However, with a return to public gyms following the reopening of the economic activities, demand for its products has since slowed.
To compound this setback, the company is recalling over 2 million exercise bikes in the United States due to injury risks associated with the bikes' seats. Additionally, PTON announced in its third-quarter shareholder letter that its $75 million settlement with DISH Technologies would likely impact fourth-quarter free cash flow.
Given these developments, should you consider buying PTON shares? For an answer to this question, it's important to observe the trends of some of its key metrics.
Examining PTON's Revenue, Gross Margin, ROA, and Analyst Target Price
The revenue of PTON shows an overall upward trend, with rising values from $181.6 million in June 2020 to $403.2 million in June 2021 and a peak of $413.8 million in December 2021. This is a growth rate of 125%.
After reaching its peak, revenue has fluctuated around the $400 million mark, with a decrease of $29.6 million reported in March 2022 compared to the value in December 2021. The most recent data point from March 2023 showed a decrease to $283.7 million.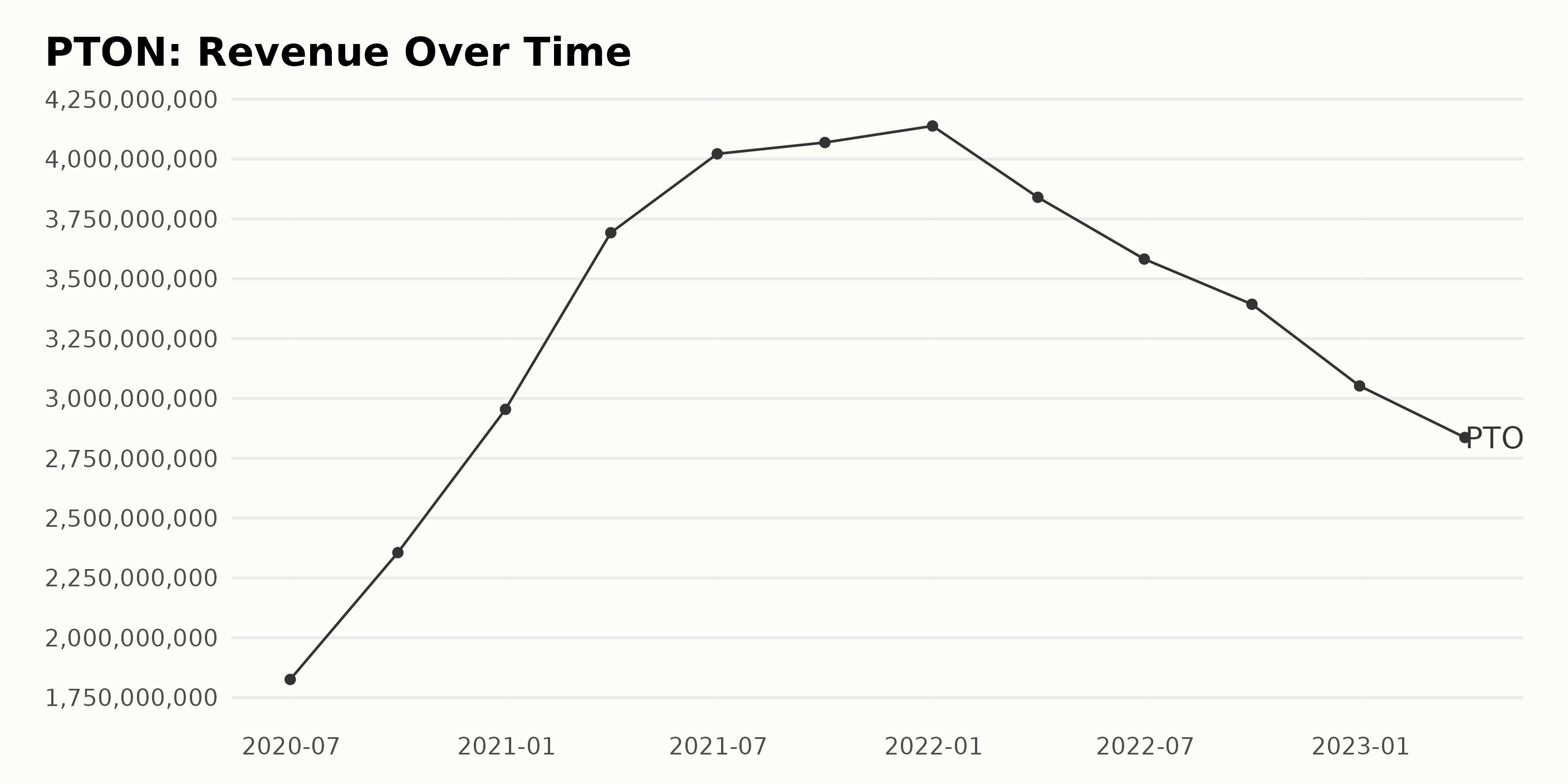 The gross margin of PTON has generally been decreasing from 45.8% (June 2020) to 34.1% (September 2021). The trend has fluctuated since then, with the last value (March 2023) increasing to 24.4%. This represents an overall decrease of 46.2% since June 2020.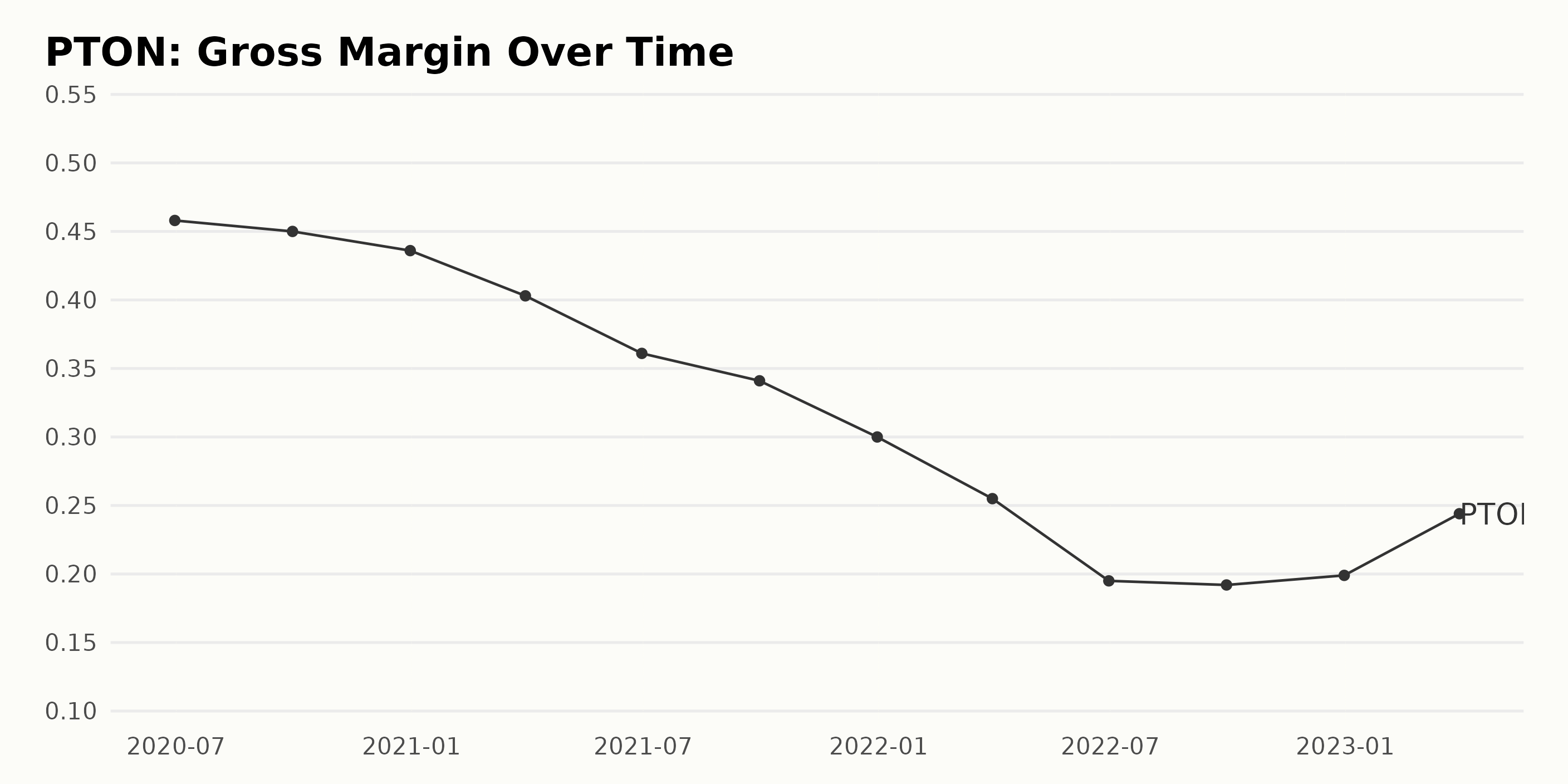 PTON's ROA has fluctuated since June 2020, with a general upward trend in the first half of the series and a downward trend in the latter months. The most recent ROA value reported was -0.653 on March 31, 2023, representing a growth rate of -143% from the initial value of -0.027 reported on June 30, 2020.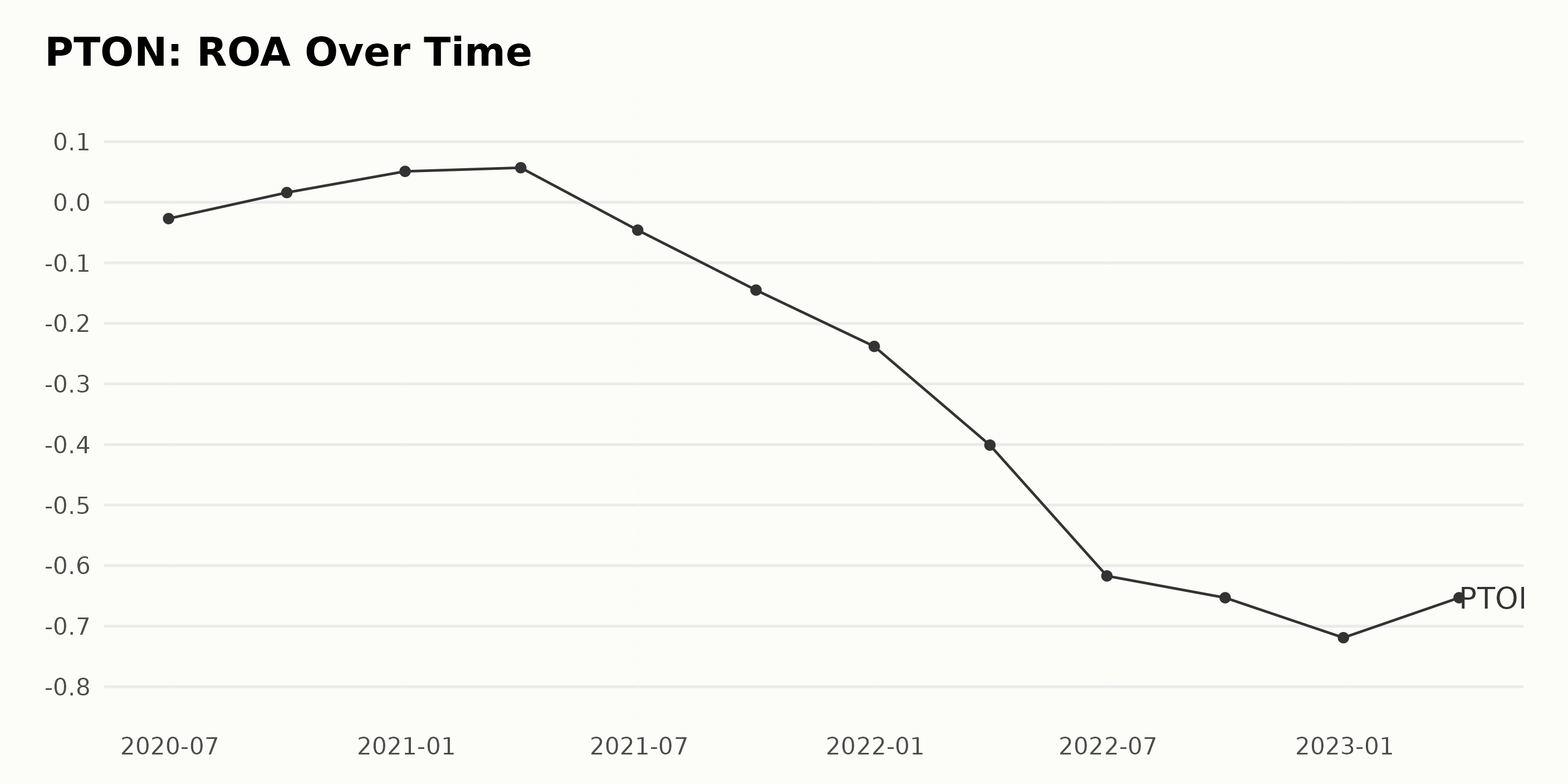 The analyst price target of PTON has fluctuated greatly since November 12, 2021, with the latest value being $11 on May 23, 2023. The target began at $107.5 and has decreased overall with a growth rate of -89%.
There have been oscillations between lows and highs around the $14-$17 point range. However, recent price targets are steadily lower, with a notable decline observed in May 2021, when prices dropped from $17 to $11.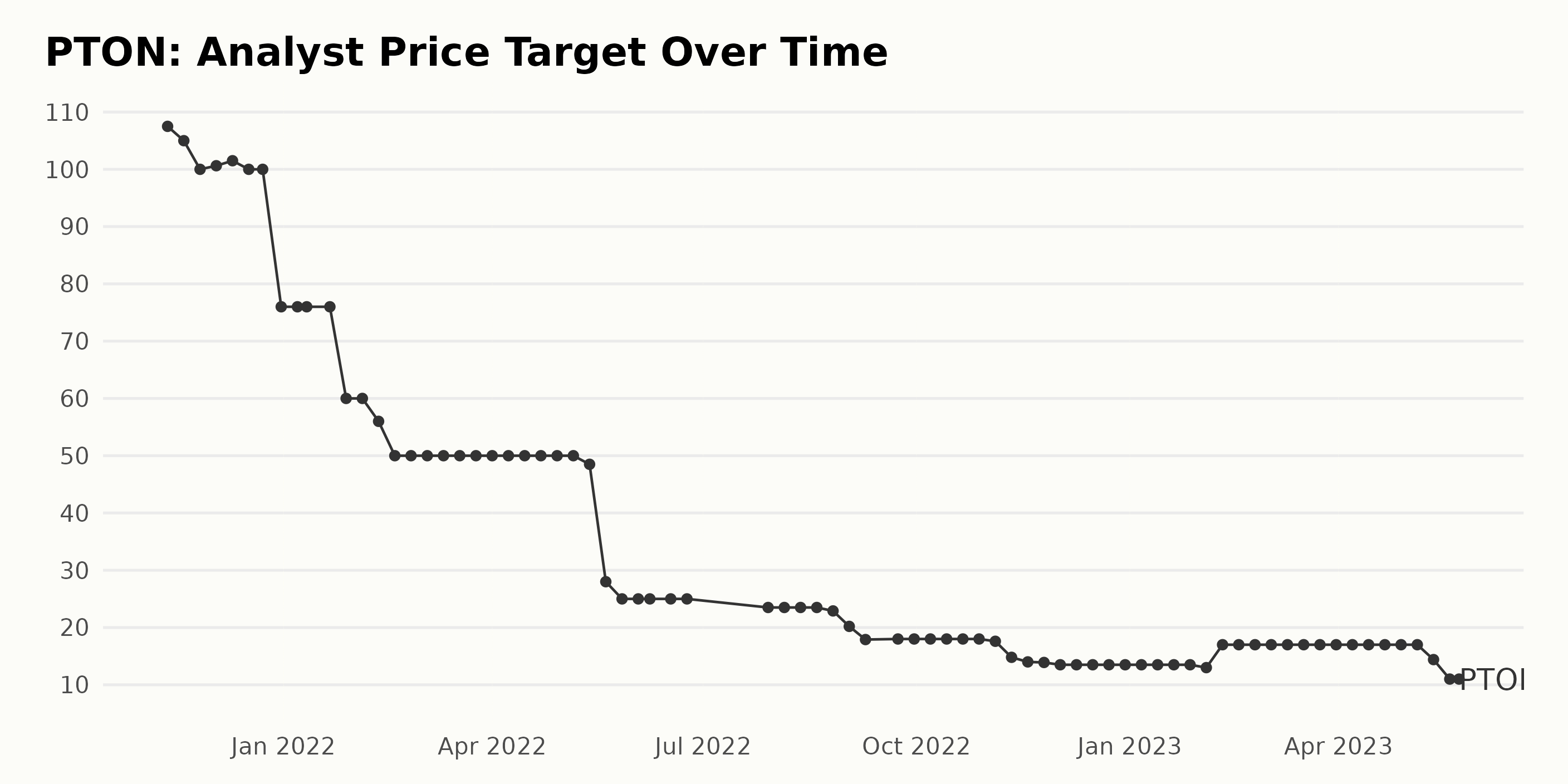 PTON Share Price: 180-Day Analysis
There is a general trend of growth in PTON share prices from November 2022 to May 2023. Initially, the share price was $9.97 on November 25, 2022, and peaked at $15.22 on February 10, 2023. However, the price then dropped off steadily until reaching $7.33 on May 22, 2023.
Overall, the growth rate of PTON's share price over this period was accelerating before decreasing significantly after February 10, 2023. Here is a chart of PTON's price over the past 180 days.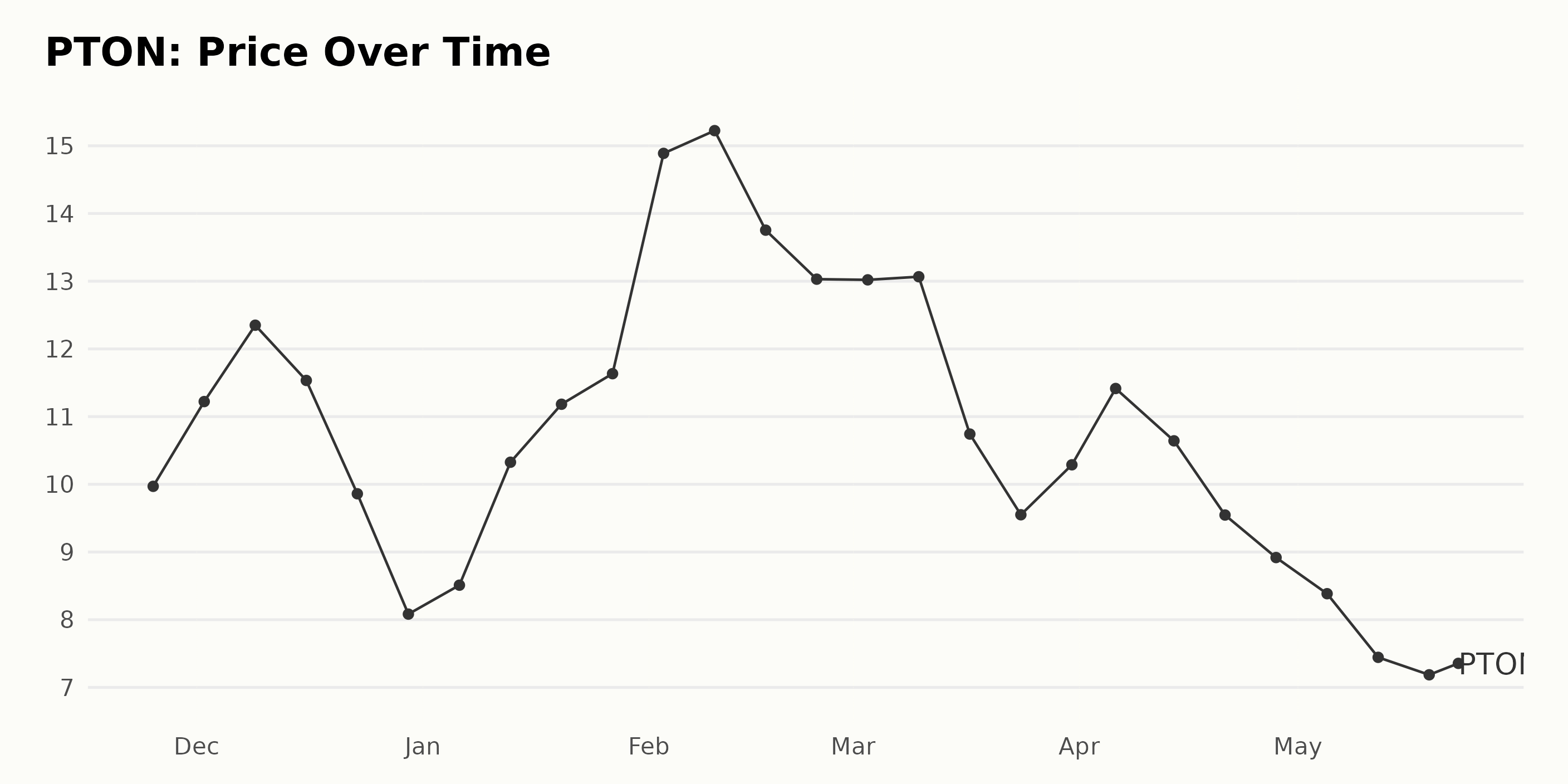 The Ratings of PTON: Growth, Momentum & Quality
PTON has an overall POWR Ratings grade of D, which translates to Sell in our proprietary rating system. It has a rank of #48 out of 52 stocks in the Consumer Goods industry.
The POWR Ratings for PTON reveal three noteworthy dimensions. Growth has the highest ratings - between 86 and 89 and appears to be trending upwards. Momentum has fluctuated significantly, being rated the lowest at 32 out of a possible 100 in May 2023 and the highest at 55 in April 2023. Finally, Quality has consistently been rated mid-range, hovering between 7 and 15 out of a possible 100.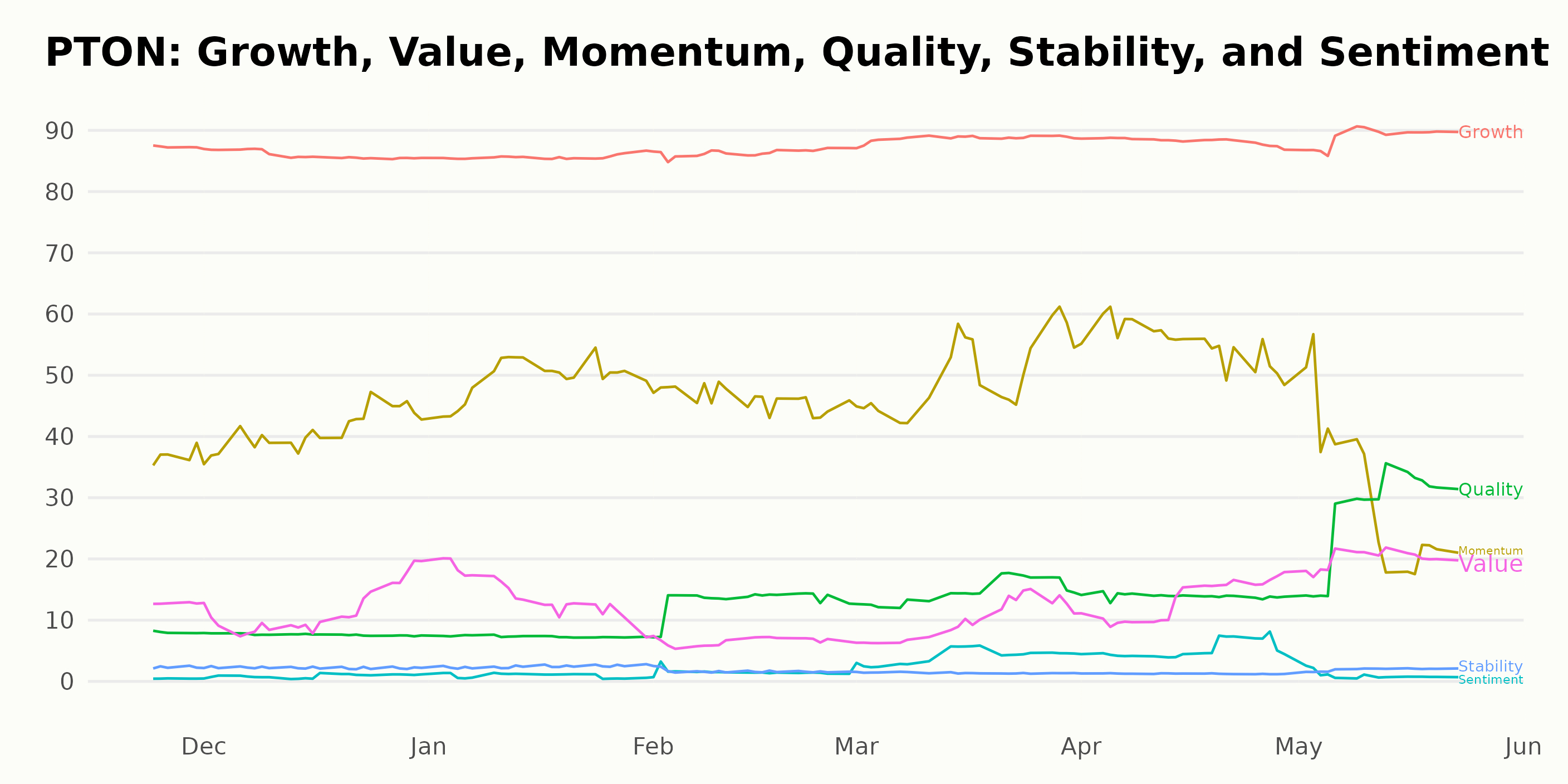 How Does Peloton Interactive, Inc. (PTON) Stack Up Against its Peers?
Other stocks in the Consumer Goods sector that may be worth considering are Kimberly-Clark de México, S. A. B. de C. V. (KCDMY), KOSÉ Corporation (KSRYY), and Ennis Inc. (EBF) -- they have better POWR Ratings.
The Bear Market is NOT Over…
That is why you need to discover this timely presentation with a trading plan and top picks from 40 year investment veteran Steve Reitmeister:
REVISED: 2023 Stock Market Outlook > 
---
PTON shares were trading at $7.38 per share on Tuesday morning, up $0.05 (+0.68%). Year-to-date, PTON has declined -7.05%, versus a 9.66% rise in the benchmark S&P 500 index during the same period.
---
About the Author: Anushka Dutta
Anushka is an analyst whose interest in understanding the impact of broader economic changes on financial markets motivated her to pursue a career in investment research.
Is Peloton Interactive, Inc. (PTON) a Buy, Sell, or Hold?
appeared first on
StockNews.com