CASTLE ROCK, Colo., June 05, 2023 (GLOBE NEWSWIRE) -- Riot Platforms, Inc. (NASDAQ: RIOT) ("Riot" or "the Company"), an industry leader in Bitcoin ("BTC") mining and data center hosting, announces unaudited production and operations updates for May 2023.
Bitcoin Production and Operations Updates for May 2023     
 
 
 
 
 
 
 
 
 
 
 
 
 
Comparison (%)
Metric
 
May 2023
April 2023
May 2022
Month/Month
Year/Year
Bitcoin Produced
 
676
639
466
6%
45%
Average Bitcoin Produced per Day
 
21.8
21.3
15.0
2%
45%
Bitcoin Held1
 
7,190
7,112
6,536
1%
10%
Bitcoin Sold
 
600
600
250
0%
140%
Bitcoin Sales - Net Proceeds
 
$16.5 million
$17.6 million
$7.5 million
-6%
121%
Average Net Price per Bitcoin Sold
 
$27,568
$29,263
$29,979
-6%
-8%
Deployed Hash Rate1
 
10.5 Eh/s2
10.5 EH/s2
4.6 EH/s
0%
130%
Deployed Miners1
 
94,1762
94,1762
43,458
0%
117%
Demand Response Revenue3
 
$2.4 million
N/A
$2.1 million
N/A
15%
 
 
 
 
 
 
 
1. As of end of month.        
2. Exahash per second ("EH/s"). Excludes 17,040 miners that are offline as a result of damage to Building G from the severe winter weather in late December in Texas.
3. Proceeds from participation in ERCOT demand response programs. Going forward, the Company plans to disclose this figure in its monthly updates when it exceeds $1 million.
 
"In May, Riot successfully maintained steady and consistent production, mining 676 Bitcoin during the month," said Jason Les, CEO of Riot. "In addition, Riot also benefitted from participation in ERCOT's Demand Response programs, generating $2.4 million in revenue as a result of our unique power strategy, which is made possible by our long-term fixed rate power contracts. Riot's participation in these programs supports ERCOT's efforts to maintain grid reliability for the benefit of all Texans while also providing economic benefits to the Company."
Mining Deployment Update
Riot ended the month of May with approximately 800 miners staged for deployment. Upon deployment of the staged miners, the Company expects to have a total of 94,976 miners deployed with a hash rate capacity of approximately 10.6 EH/s (which excludes 17,040 miners currently offline in Building G).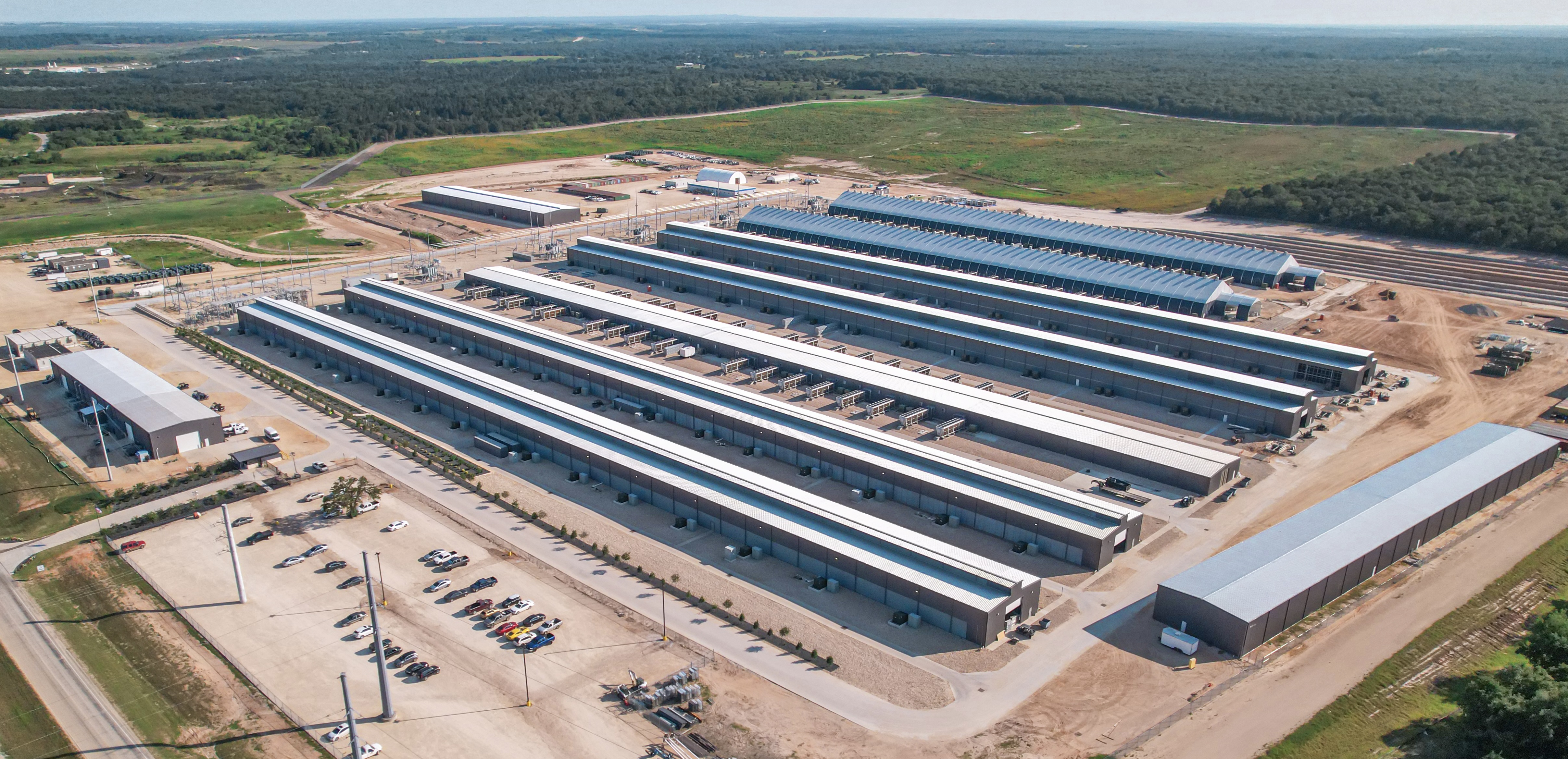 Estimated Hash Rate Growth
Due to the ongoing impact of damage incurred to Buildings F and G during the severe winter storms in Texas in December 2022, Riot now anticipates achieving a total self-mining hash rate capacity of 12.5 EH/s in the second half of 2023.
Community

The Company is pleased to announce that it has awarded a research grant to Tobin Harding, a prominent open-source developer, in order to support Harding's work on Bitcoin libraries written in the Rust programming language. Harding is known for his prolific contributions to improving the developer experience and code quality of strategically important Bitcoin software, and this grant will allow Harding to continue his work on Bitcoin software and further his research.
Riot is also pleased to announce its new membership with the Texas A&M University Blockchain and Energy Research Consortium ("BERC"), a prestigious research consortium focused on the intersection between Bitcoin mining and electrical engineering. Texas A&M University is renowned for its flagship research programs and the largest student body in the United States and offers an ideal platform for multidisciplinary and data-driven research of nascent fields of study. Pierre Rochard, Riot's VP of Research, will join BERC's Board to advise on research projects. This partnership presents exciting opportunities to accelerate the integration of Bitcoin and the energy industry, research advancements, and student career development.
Human Resources
Riot is currently recruiting for positions in the following departments: IT, Operations, Safety, and Software Engineering. Join our team in building, expanding, and securing the Bitcoin network.
Open positions are available at: https://www.riotplatforms.com/careers.
Upcoming Calendar of Key Events
Riot will be hosting the 2023 Annual General Meeting of the Company's stockholders at 11:00 a.m. (Eastern Time) on Tuesday, June 27, 2023. The Annual Meeting will be virtual-only, and a live webcast of the meeting will be available via the virtual meeting portal at: www.virtualstockholdermeeting.com/RIOT2023.
Riot will be presenting at the following upcoming conferences in June 2023:
2023 Cantor Fitzgerald Technology Conference in New York City, June 14th.
Roth MKM 9th Annual London Conference, June 20 – 22nd.
About Riot Platforms, Inc.
Riot's (NASDAQ: RIOT) vision is to be the world's leading Bitcoin-driven infrastructure platform.
Our mission is to positively impact the sectors, networks, and communities that we touch. We believe that the combination of an innovative spirit and strong community partnership allows the Company to achieve best-in-class execution and create successful outcomes.
Riot is a Bitcoin mining and digital infrastructure company focused on a vertically integrated strategy. The Company has data center hosting operations in central Texas, Bitcoin mining operations in central Texas, and electrical switchgear engineering and fabrication operations in Denver, Colorado.
For more information, visit www.riotplatforms.com.
Safe Harbor
Statements in this press release that are not historical facts are forward-looking statements that reflect management's current expectations, assumptions, and estimates of future performance and economic conditions. Such statements rely on the safe harbor provisions of Section 27A of the Securities Act of 1933 and Section 21E of the Securities Exchange Act of 1934. Because such statements are subject to risks and uncertainties, actual results may differ materially from those expressed or implied by such forward-looking statements. Words such as "anticipates," "believes," "plans," "expects," "intends," "will," "potential," "hope," and similar expressions are intended to identify forward-looking statements. These forward-looking statements may include, but are not limited to, statements about the benefits of acquisitions, including financial and operating results, and the Company's plans, objectives, expectations, and intentions. Among the risks and uncertainties that could cause actual results to differ from those expressed in forward-looking statements include, but are not limited to: unaudited estimates of Bitcoin production; our future hash rate growth (EH/s); the anticipated benefits, construction schedule, and costs associated with the Navarro site expansion; our expected schedule of new miner deliveries; the impact of weather events on our operations and results; our ability to successfully deploy new miners; the variance in our mining pool rewards may negatively impact our results of Bitcoin production; M.W. capacity under development; we may not be able to realize the anticipated benefits from immersion-cooling; the integration of acquired businesses may not be successful, or such integration may take longer or be more difficult, time-consuming or costly to accomplish than anticipated; failure to otherwise realize anticipated efficiencies and strategic and financial benefits from our acquisitions; and the impact of COVID-19 on us, our customers, or on our suppliers in connection with our estimated timelines. Detailed information regarding the factors identified by the Company's management which they believe may cause actual results to differ materially from those expressed or implied by such forward-looking statements in this press release may be found in the Company's filings with the U.S. Securities and Exchange Commission (the "SEC"), including the risks, uncertainties and other factors discussed under the sections entitled "Risk Factors" and "Cautionary Note Regarding Forward-Looking Statements" of the Company's Annual Report on Form 10-K for the fiscal year ended December 31, 2022, as amended, and the other filings the Company makes with the SEC, copies of which may be obtained from the SEC's website, www.sec.gov. All forward-looking statements included in this press release are made only as of the date of this press release, and the Company disclaims any intention or obligation to update or revise any such forward-looking statements to reflect events or circumstances that subsequently occur, or of which the Company hereafter becomes aware, except as required by law. Persons reading this press release are cautioned not to place undue reliance on such forward-looking statements.
Investor Contact:
Phil McPherson
IR@Riot.Inc
303-794-2000 ext. 110
Media Contact:
Alexis Brock
303-794-2000 ext. 118
PR@Riot.Inc 
A photo accompanying this announcement is available at https://www.globenewswire.com/NewsRoom/AttachmentNg/2c5ebb1a-087a-49eb-add5-1f5c1559cfee