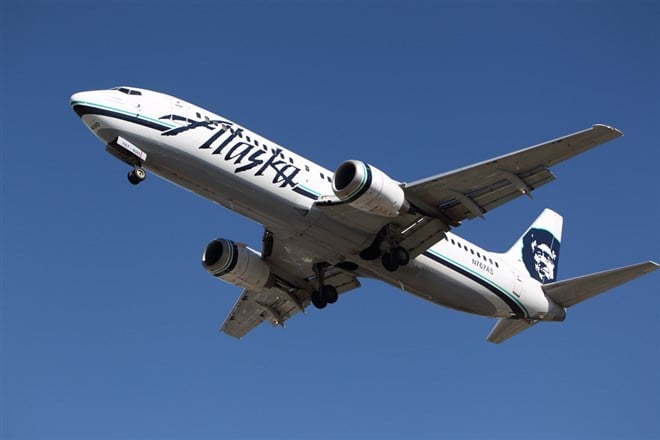 The airline industry has been in rally mode since late last month, and Alaska Air Group Inc. (NYSE: ALK) is one of the stocks leading the way in the past two weeks. 
Others that have taken flight lately include United Airlines Holdings Inc. (NASDAQ: UAL), American Airlines Group Inc. (NASDAQ: AAL) and Delta Air Lines Inc. (NYSE: DAL). Showing that positive news can lift an entire industry, even Southwest Airlines Co. (NYSE: LUV) is up 5.96% in the past week, as investors seem to have brushed aside the company's widely publicized bungling of the busy holiday travel season. 
Alaska Air soared 11% last week on news that the company plans to recruit 3,500 new employees in various roles and functions. 
In a news release, the company said, "As we continue to grow and bring dozens of new airplanes into our fleet, we need thousands of people to join the Alaska family."
Alaska Air operates two airlines, Alaska and Horizon. Its mainline business segment comprises scheduled passenger and cargo transportation on Alaska's Airbus and Boeing fleets. That unit serves the U.S., parts of Mexico, and Costa Rica. 
Horizon is a wholly owned subsidiary of Alaska, flying regional these regional passenger routes. The concept of the regional segment is familiar to travelers who fly relatively short distances, often to or from smaller airports. 
Investors Cheer Hiring Announcement 
The announcement about robust 2023 hiring was greeted with enthusiasm as shares climbed 2.65% on the news. While recent corporate announcements about layoffs, such as those at Jabil Inc. (NYSE: JBL), resulted in a rally because investors cheered cost cuts, Alaska's news resulted in optimism about increased business.
The company said it aims to hire 550 pilots, 1,000 flight attendants, 1,000 customer service agents, 100 ramp service agents, 240 contact center agents, 135 maintenance technicians, and 500 employees for management roles. 
With a market capitalization of about $6.38 billion, Alaska now qualifies as a mid-cap, but it hasn't yet been ejected from the S&P 500, although it's one of the smaller stocks within that broad large-cap index. The current threshold for qualification is $3 billion, which Alaska still meets. 
In the past year, the stock essentially etched the same downward trajectory as the broader airline industry, although did outperform the group as a whole. The leading stock in the group is Panamanian Copa Holdings SA (NYSE: CPA), which advanced 7.47% in the past year. United saw a 7.22% gain during that time, while American and Delta were down 12% and 7.89%, respectively.
Alaska posted a decline of 11.07% in the past year.

Good Data On Inflation Lifted Entire Industry 
The entire group is rallying as better-than-expected inflation data is boosting hope that demand for travel will bounce back sooner than anticipated. However, anyone who flew much in 2022 almost certainly experienced packed planes, crowded airports, and often flight delays and cancellations as post-pandemic travel rebounded much sooner than airlines expected. 
Investors seem to believe last year's travel was just the tip of the iceberg regarding what's coming. 
The company is due to report its fourth quarter on January 26, before the opening bell. Wall Street expects $0.88 per share on revenue of $2.51 billion. Both would be increases over the year-earlier quarter. 
Earnings data for Alaska show the company beating bottom-line views in the past eight quarters and top-line views in seven of the past eight. 
Revenue has been increasing at a healthy clip, although below the triple-digit growth rates that occurred from the second quarter of 2021 through the first quarter of 2022, when year-over-year gains over travel-restricted and travel-reluctant quarters were easy to make.
Shares are trading at April 2022 levels, as the stock advanced 20.02% in the past three months. Shares closed Tuesday at $50.30, a gain of a penny.