08/09/2022, Philadelphia, PA // PRODIGY: Feature Story //



Defocus Media has brought on Dr. Monica Johnsonbaugh for an Optometry Podcast that offers tips on starting up your practice that can benefit many aspirants.

Since its inception, Defocus Media has strived to be a valuable resource for eye care professionals, optometry practitioners, and anyone interested in knowing more about the field. It has created a database of essential articles covering wide-ranging topics, including 'Vision Care In The Workplace' and 'The Connection between vision and comfort in a contact lens. In fact, it also keeps readers abreast with the latest trends and news in the field like the clinical studies for Dry Eye disease.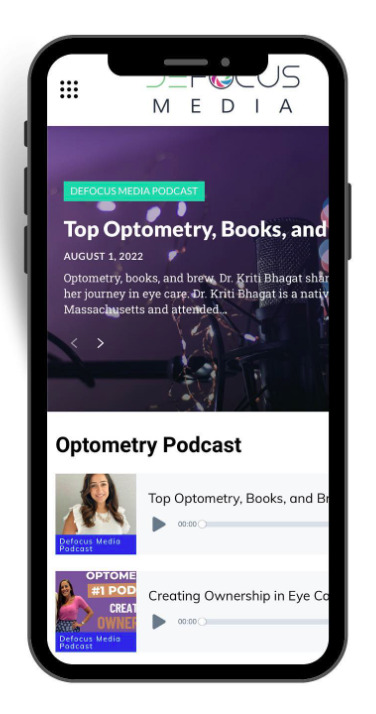 It's interesting to note that the online resource is packed with podcasts and videos that can make the information easy to access for people. People can benefit from expert views, experiences, and insights. And that's also true for this Optometry Podcast that brings leading professional Dr. Monica Johnsonbaugh to the table. The podcast is hosted by Dr. Darryl Glover, a renowned global optometrist, entrepreneur, social media enthusiast, and sought-after speaker.

In his inimitable style, Dr. Glover, who has served the optometric community for over two decades, gets Dr. Monica Johnsonbaugh to share her thoughts, tips, and advice that can be of great value to anyone who wants to start their practice. A graduate of Butler University, Dr. Johnsonbaugh received her Doctorate in Optometry from Indiana University. Her experience includes practicing in tandem with ophthalmologists specializing in glaucoma, cataracts, corneal disease, retinal disease, and pediatrics.

Awarded as the Young Innovator by Primary Care Optometry News for practicing progressively, providing innovative patient care, and conducting optometric research, Dr. Monica Johnsonbaugh of Focus 313 is dedicated to providing her patients with the highest level of care. It made her a fitting candidate for the Optometry Podcast organized by Defocus Media. The podcast ' Creating Ownership In Eye Care' doesn't disappoint with the range of topics it covers and the insights it brings.

It makes sense for those considering starting their private practice. Dr. Monica Johnsonbaugh delves into her vast experience as she looks back on her journey in eye care. The Optometry Podcast also has her talking about best practices for ownership, which can be a blueprint for aspirants.

"You only get one chance at a first impression. Today's world is fast-paced and highly digital," she says while explaining the new age requirements of young, new contact lens wearers. How to cater to them to impress them at first instance, keep up with the latest research in the field, and manage the practice smartly; there are many other crucial tips from Dr. Monica Johnsonbaugh that one can find at https://defocusmedia.com/ownership-in-eyecare/.

About Defocus Media

The online platform has become the go-to resource for practitioners and anyone interested in more about optometry and eye care.

###

Media Contact

Defocus Media

URL: https://defocusmedia.com/

Phone: 484-416-2178




newsroom: news.38digitalmarket.com




Source: 38 Digital Market News

Release ID: 342418


This content is published on behalf of the above source. Please contact them directly for any concern related to the above. 

This press release may contain forward-looking statements. Forward-looking statements describe future expectations, plans, results, or strategies (including product offerings, regulatory plans and business plans) and may change without notice. You are cautioned that such statements are subject to a multitude of risks and uncertainties that could cause future circumstances, events, or results to differ materially from those projected in the forward-looking statements, including the risks that actual results may differ materially from those projected in the forward-looking statements.